Set on an estate built by Austrian emperor Joseph II to protect the Hazegras lock, a breathtaking moment of serenity awaits visitors to The Bunkers; a private villa with five double rooms located in heart of the polders at the Belgian seaside.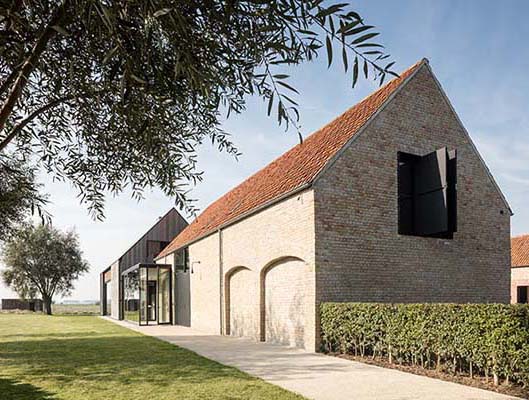 Going on to become occupied by the Germans during WWI and II—before its rebirth as a serene, design-orientated architectural gem—a monument to the turbulent times experienced at the site sees five stone bunkers encircle the grounds. Rather than keeping the opposition at bay, these days their use is as a shelter for the wandering chicken, sheep, and bees … guests treated to a breakfast consisting of fresh eggs and homemade honey as a result.
Architects Govaert & Vanhoutte—alongside interior designer Anversa and landscape architect Leon Van Haesebrouck—have converted the building into a house with guest rooms, each one aesthetically different to the next but sharing the facilities of an ensuite bathroom, bathrobes, slippers, fluffy towels, flat screen TV, Wi-Fi, and air con. Shining with personality, rooms range from The Field Room—with views over the polders—to the cosy River Room; Polder Room, with a bath cut out of concrete; The Terrace Room with a terrace; and The Bunker Room where you can watch grazing sheep from the comfort of your bed.
Should you wish to leave the compound, beaches, restaurants, shops, and the bewitching Bruges can be reached quickly. However, with its own heated pool, sauna, fitness area, and much, much more, we can't imagine guests too eager to leave the confines of this veritable Belgian gem.