"The installation on the roof of Fundació Antoni Tàpies, an evocative tangle of metal on top of a beautiful modernist building that represents Barcelona's classic and bourgeois beauty, is emblematic of the city's creativity." Nuria Canal, founder of Food Lovers Company, is effusive with pride in the city she's called home for the last 30 years.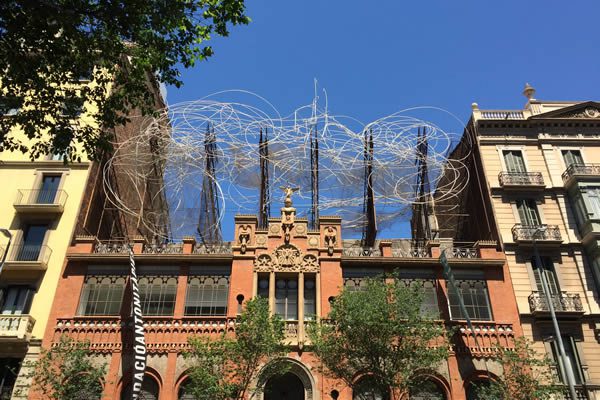 Where many observers would reel off Gaudí's renowned masterpieces, the famous gothic quarter or the many monuments left behind from the World Fairs of 1888 and 1929, even Camp Nou, Canal's pick of Antoni Tàpies avant garde installation is symptomatic of FLC's ability to pick out Barcelona's rare gems.
Created in 1990, the Catalan artist's Núvol i cadira was designed to cap off the new life his cultural centre was giving to the imposing 1880 building—a former publishing house—that was designed by revered architect Lluís Domènech i Montaner; raising its height and profile having been hemmed in by adjoining houses over time. A frenetic muddle of aluminium and steel, the artwork is a fine symbol of Barcelona's other side, the side casual tourists won't penetrate without the help of locals; a side bursting with nonconformity and indefinable spirit. "It's a city that fills your soul, enriches you," explains Ana Baguñá, owner of ANBA Bed & Breakfast Deluxe, a hotel that occupies a modernist building in the heart of the city; five minutes from Plaça de Catalunya and on the edge of the Gothic Quarter and fashionable El Born. "It makes you feel alive, evokes all five senses."
With guides born and raised in Barcelona—possessing in-depth insider knowledge of its gastronomy, its history, art and culture—food and wine tour project Food Lovers Company are perfectly placed to reveal the city's hidden secrets; avoiding tourist traps, crowds, and focussing on local produce, specialities, and tastes that appeal to the most discerning of travellers.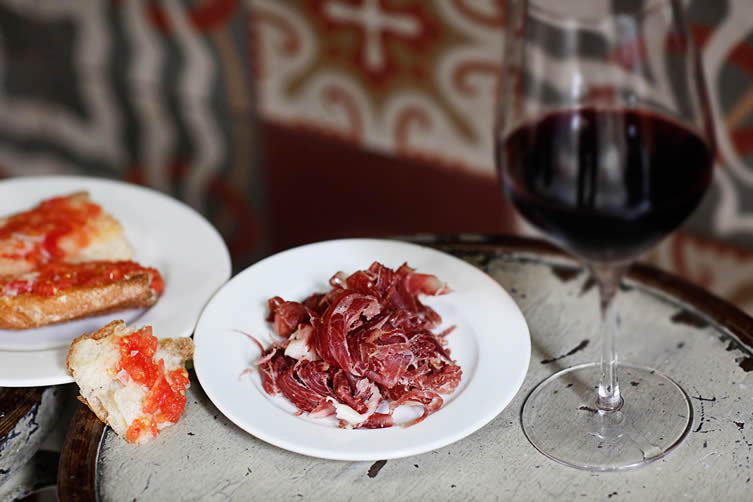 "We love it when they say 'this is the highlight of my trip, I would have never found these places on my own,'" Nuria tells us as we talk about their tours (comprised of a maximum of six people, they have a personality and intimacy like few others), Barcelona's gastronomy, and the city at large. "The big surprise for our clients is that the local cuisine has a huge variety of recipes. The amount of traditional dishes that can be found is inexhaustible … it's one of the characteristics of our cuisine."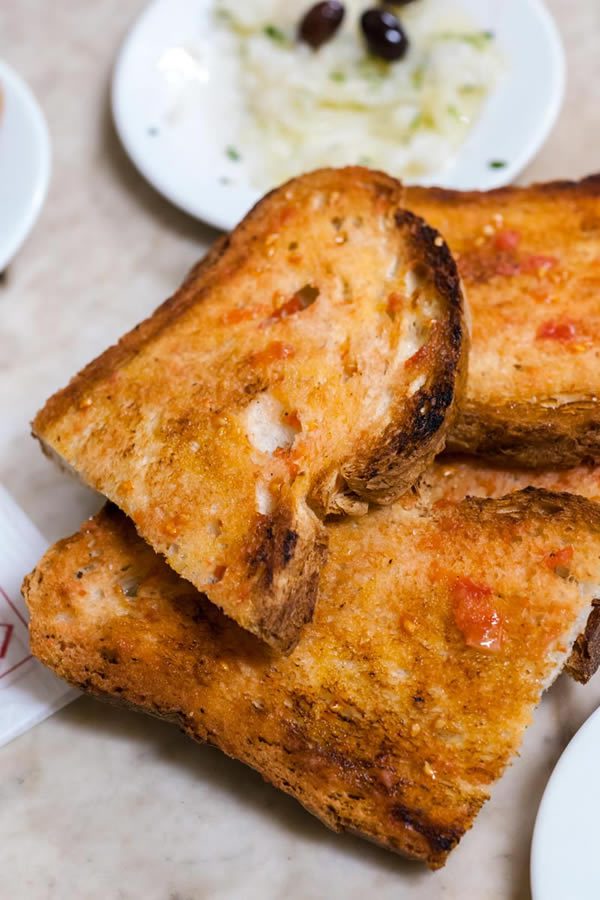 I push her for a highlight of the cuisine that locals can't live without: "Pa amb tomàquet (bread rubbed with tomato, a staple of Catalan cuisine), vermouth, and of course a good paella or fideuá shared with friends." The simple things done well.
Sharing many of FLC's principles, the ANBA is deeply connected to local life, its intimate approach to hospitality offering guests a glimpse into the city's hidden side. "Being in a place like ANBA allows people to feel the pulse of the city, its people and its charm," explains Baguñá. "It's as if they were at home in Barcelona. They have a very close relationship with us, therefore have a deeper connection with local people. We're in the centre, but our guests experience what it's like to live in a 'house' in Barcelona's Eixample, with its charm and history. Everything is part of the trip and the experience, it's not just sleeping in a hotel. It's like an oasis in the middle of the city."
Nearby, Nuria Canal and her food lovers highly rate what she calls a "very ugly bar". Which is a reminder that locals know best—trust me, you wouldn't give Alastruey the time of day if it wasn't recommended. "It has the best Spanish omelette in Barcelona, ​​and simple traditional food. No glamour there, it's like the worst side of the 1980s, but the tortilla—which is difficult to find like this in Barcelona—is worth it." Nothing to look at, but unforgettable omelette, Alastruey sets up the sort of paradox that exists throughout the city; contradictions and juxtapositions that give Barcelona its singular essence.
"It's a small space for so many different ways of life, social classes, and historical moments. In the same street you might find a religious temple, a sex toy store, a churrería, and the remains of a Roman wall integrated into a building from the modernist movement."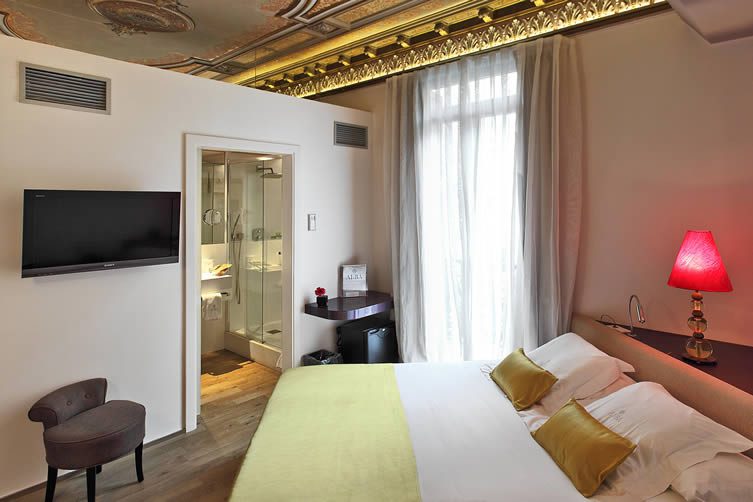 "Modernisme (the Catalan modernist movement) is not just Gaudí," says Ana, "Hospital de Sant Pau, Palau de la Música (both UNESCO World Heritage Sites, designed by Lluís Domènech i Montaner) … there are many architectural masterpieces beyond Barcelona's more famous buildings." ANBA itself is located on the first floor of an 1876 modernist building, its ornate ceilings some of the original details that transport guests to another time. "It's part of Barcelona history and they're sleeping looking at it, they love it," she continues.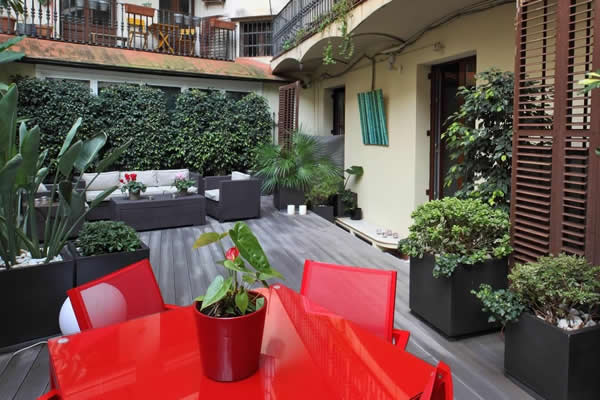 Part of the mammoth Eixample city planning project conceived by Ildefons Cerdà in the 1800s, the hotel's garden—where homemade breakfasts (from continental selection with local produce to à la carte eggs, toasted sandwiches, or smoothies) are served—occupies a patio de manzana, the community garden Cerdà envisaged for each block of the city's expansion. Those patios now largely private, ANBA's terrace allows guests to experience another overlooked detail within this complex city.
From Ildefons Cerdà's unique expansion project, connecting the old city with what were once surrounding towns, to ugly bars with great tortilla, Canal and Baguñá have tip after tip for ways that curious visitors connect with the real Barcelona. Prior to co-founding Food Lovers Company, Nuria worked here for 25 years in the contemporary art world. It's a difficult choice, but she picks out three of her top, under-the-radar, galleries: Galería Bernat, specialising in medieval painting and sculpture; the "exquisitely selected" contemporary at Galería Estrany – de la Mota; and the youthful and energetic Bombon Projects.
Of course, the likes of MACBA (Museu d'Art Contemporani de Barcelona) and Museu Picasso are unmissable, but the insider knowledge of real locals is what makes travel a transformative experience. A guidebook alone won't help you encounter the city from the inside out.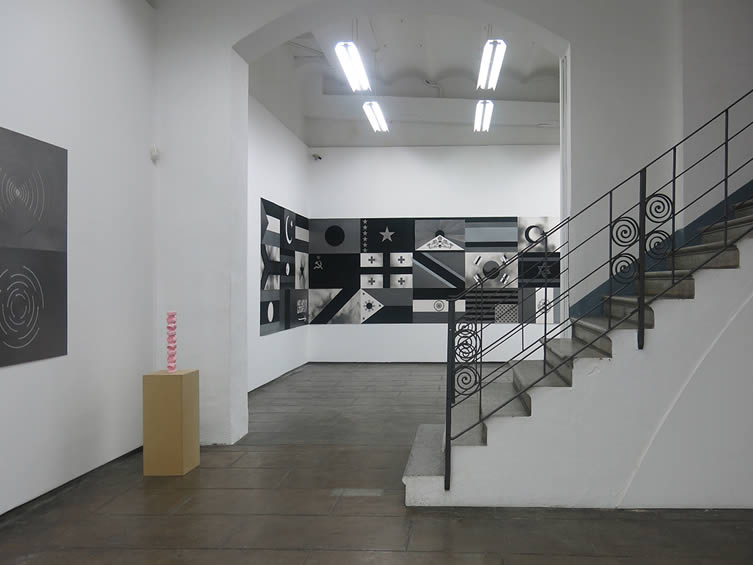 There's one tip I never fail to offer to those visiting Barcelona, and that's to get high enough to view the city as a whole. Forced onto a surprisingly small footprint by its geography—the Serra de Collserola mountain range to its west, and the Besòs and Llobregat rivers to its north and southwest—the Catalan capital is densely populated, buildings at times seemingly piled on top of one another, historic monuments and dramatic modernist edifices dotted throughout; the coast of the Mediterranean always dominant.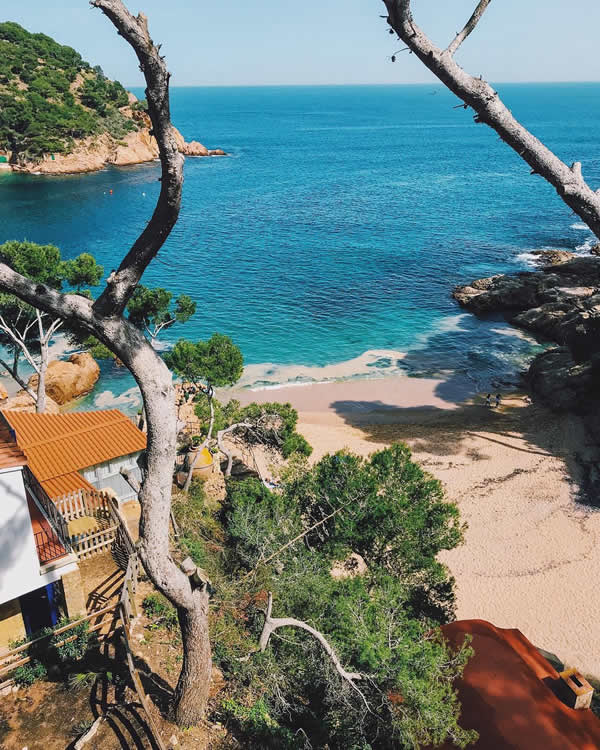 One of my favourite spots is Carretera de les Aigües, and the duo agree; "you have views of the whole city and the coast", explains Nuria. Almost 10 kilometres in length, you can traverse the breadth of the city from above, the ridge on the edge of the Collserola Natural Park allowing you to take the whole city in from one eyeful.
Baguñá reminds us that, for all its beauty, visitors shouldn't neglect the wonder of Catalonia at large:"If they have a long stay," she begins, "I recommend our guests to hire a car, visit the city of Girona; the Costa Brava and the Dalí museum in Figueres; Sitges; the vineyards of Penedès; or Tarragona."
Of course, those limited for time need take a leaf out of our book and talk to the locals who know the city inside out. Stay in a home-from-home like ANBA, where personable owners will settle you in and help you seek out the best spots; greet you with local wines and a smile; make you feel at home with lavish breakfasts and an honesty bar; or find knowledgeable local guides like those at Nuria's Food Lovers Company. As Canal says, "we love it when they say 'this is the highlight of my trip, I would have never found these places on my own.'" Do yourself a favour, don't miss out on the secrets of the 'city that fills your soul'.