The host of WTF Podcast, stand up comedian Marc Maron, says all you need to know: 'without Paul Major I would know nothing about all the great records people know nothing about.' That, my friends, is Mr Major in a nutshell. Savant of the oddest records ever made; pioneer of New York's 1970s punk scene; collector and archivist of obscurity; inimitable and outlandish force of nature.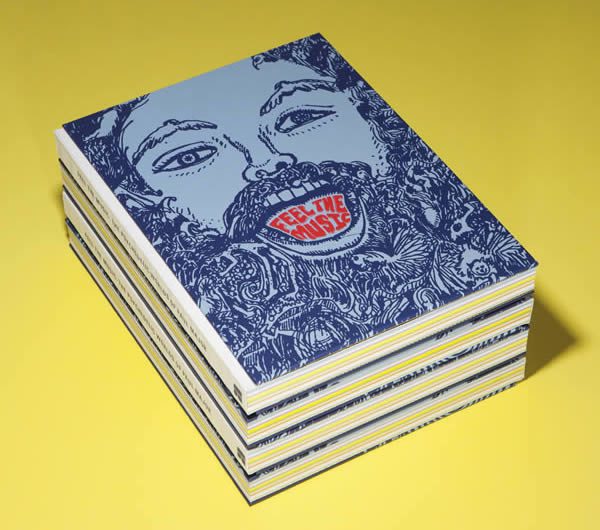 Tracing Paul Major's singular path, from his early days in the Midwest to frenetic years as part of the New York punk scene, and onto a revolutionary career cataloguing music's weird and wonderful as part of his mail-order LP business, Feel the Music: The Psychedelic Worlds of Paul Major — published by Anthology Editions — is the curious compendium that every off-centre music fan need own; an outré document of an existence on rock and roll's extremities.
The comprehensive hardback features photography and artworks from Major's unparalleled collection, unseen photographs, rare record covers, and cut n' paste ephemera; all huddled around Paul's uniquely animated storytelling. Dubbed 'a fanatical mystery tour through the further, outer reaches of music history', the book also features an introduction from archivist and editor Johan Kugelberg, alongside essays from Jack Streitman; Michael P. Daley; Rich Haupt; Stefan Kery; Patrick Lundborg; Geoffrey Weiss; Jesper Eklow; and Glenn Terry.
Born in Louisville, Kentucky, in 1954, Paul found himself riding the generational wave of rock and roll — introduced to fuzz guitar aged just 12, the would-be collector never looked back; starting his mail-order business as his expertise in obscure collecting grew. Known as must-reads among fanatics of the eccentric fringes of the music world, Major's catalogues would become a sort of Holy Grail with their amalgam of crate-digging obsessiveness and idiosyncratic texts.
Feel the Music: The Psychedelic Worlds of Paul Major comes, naturally, with a collectable split 7" vinyl featuring two of Major's bands: the Sorcerers (a proto-speed metal band formed at the turn of the 1980s) and Endless Boogie (a stripped-back rock n' roll affair formed in 1997, embracing the fuzz guitar sound where it all began.) A deluxe edition also includes a silk-screened slipcase, companion book, and signed letterpress print from artist Lizzi Bougatsos alongside a signed version of the weighty tome.