Monty's Deli have opened their first bricks and mortar site, after tickling the tastebuds of Londoners since opening their revered market stall back in 2012.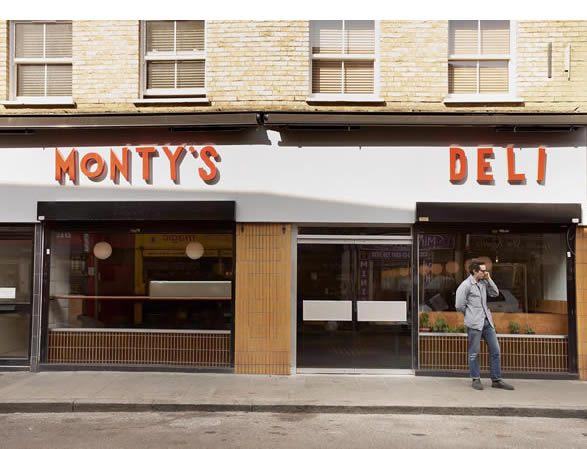 Located in an old East End bakery on Hoxton Street, Monty's Deli serve a selection of hot pastrami, salt beef and other classic Jewish dishes in a space designed by architects Dan Marks Studio. Exposing the building's original Victorian tiles, and furnished with booths reminiscent of the classic workers' cafés, a long bar where you can sit and watch the kitchen action, and relaxed lighting, this is a Shoreditch gem with some serious design chops.
The concept behind Monty's — born in founder Mark Ogus's backyard, before teaming up with Owen Barratt — is inspired by the food Mark grew up around, and the sacred Jewish delis of America (think New York icon, Katz). Together, the duo have grown a loyal fanbase who flock to wrap their smackers around sandwiches and bagels that are stacked with hand-carved towers of home-made, signature salt beef and pastrami (one of the only places in Britain to make their own from scratch), and their lauded chicken soup.
With wafts of Jewish soul food filling the premises from morning to night, and a design integrity that counterparts the duo's honest culinary approach, Monty's Deli steps into the realm of bricks and mortar eateries with its chest pumped up and a strutting stride of knowing confidence. Expect big things.