The retina-bothering brilliance of riotous design talents Morag Myerscough and Luke Morgan is back. The duo, whose work is a regular frequenter of these pages, have celebrated this year's edition of the London Design Festival with a typically vivid installation at swanky London bolthole, The Bulgari Hotel.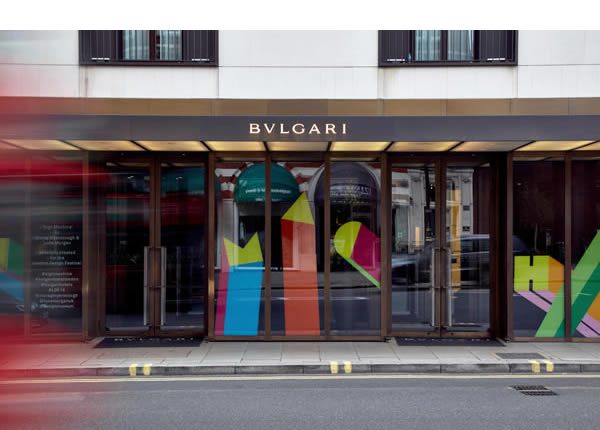 Created in response to a soon to be unveiled 'crowdsourced product wall', that will form part of a permanent Studio Myerscough-designed exhibition at the Design Museum's new Kensington home, The Sign Machine puts some of those products (guitar, power-drill, hot water bottle … ) to use; the kinetic installation opening a dialogue between the user and the iconic designs that surround them.
The duo's true to form chaotic aesthetic is boldly at odds with the composed serenity of the Bulgari's lobby, where users of the installation are able to control signs ('nasty', 'useless', 'pretty' … ) that lead to a wider contemplation on the objects and their roles in a daily lives. 'We're very excited to continue our relationship with the design world and present such a striking installation by Morag Myerscough and Luke Morgan during the London Design Festival.' Explains the hotel's general manager, Sylvain Ercoli. 'This is a very important collaboration for us as it also acts as a preview for what will be our new neighbour, the Design Museum's, permanent exhibition.'
Morag Myerscough and Luke Morgan's The Sign Machine can be found at Bulgari Hotel, London, until 25 September.
@moragmyerscough
@lukemorganuk
@bulgarihotels