Having been around Art Basel Miami and Milan Design Week, Studio PSK's Polyphonic Playground is back home this weekend, for a two-day event that honours the cultural dawning underway at Stratford's Queen Elizabeth Olympic Park.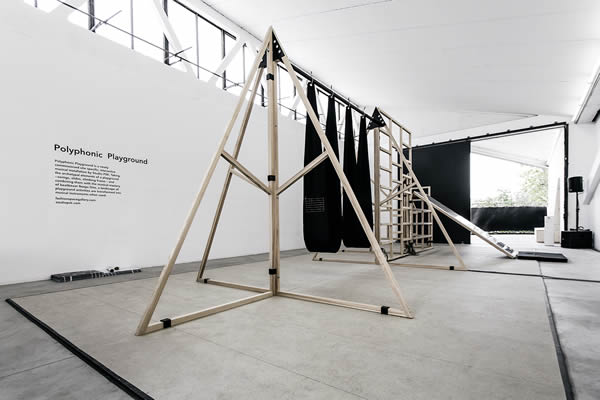 Emergent hotbed of creativity and innovation, Here East, will host the installation (running 30 — 31 July as part of the hub's Foundations programme) that was originally commissioned by London College of Fashion's Fashion Space Gallery; LCF will have completed their move out to this neck of the woods by 2021.
Rooted in the primal joy of children's playgrounds, the music-tech installation sees the playground recreated on an adult scale, using a timber framework that has been enhanced by all manner of technological jiggery-pokery; circuit boards, and conductive yarn and tape trigger sounds and sequences via MIDI — the naive rapture of youth playing out a symphony of contemporary bleeps and beats.
Visitors will have the chance to interact with the installation, whilst a brand new performance — Thigmo (the Greek word for touch) — by choreographer Eleesha Drennan, commissioned by Studio Wayne McGregor, will explore the visceral bonds between touch, dance, sound, and technology. Other performances and workshops will take place over two 2pm — 7pm sessions this weekend.
@studio_psk
@hereeast
@waynemcgregor
@FashionSpaceLDN