Not many folk, one would presume, could get away with turning the Eiffel Tower into a massive cock, and suspending it in the iconic dome of Paris's most esteemed department store. Maurizio Cattelan and Pierpaolo Ferrari — aka TOILETPAPER — can, and have; two giant golden eggs shaping the metaphorical balls that accompany the latter.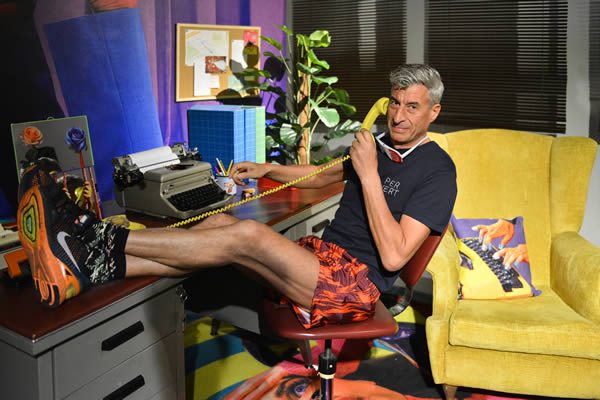 TOILETPAPER have commandeered the city's Galeries Lafayette this summer, with a trio of projects that opened to fanfare (a raucous party led by big-name disc-spinners like Cassius and Ed Banger's Busy P) on 6 July: startling window displays, the phallic inflatables, and an expansive exhibition of their ironic interior pieces produced in collaboration with design partners Gufram and Seletti.
The usual brand of extreme irreverence is on show here, all ramped up to the nth degree — ceramics to rugs, iconic Pop Art-inspired design pieces, coffee tables, tin tableware, their polyurethane foam bar of soap with a bite taken out of it … everyday objects pierced with sharp surrealism, fanciful scenarios brought to life with the TOILETPAPER flair of unconventionality and wit.
The display windows are on show until 27 July; Eiffel Tower cock and balls through 27 August; and the TP-RAMA exhibition at Galerie des Galeries (on Galeries Lafayette's first floor) continues till 10 September.