'We think we know, but we have no clue really,' explains American artist Olivia Steele of the illuminating message behind Faux Real, her latest series of neon works. The Nashville born artist is a big-thinker, and is convinced that the future of humanity is moving into the imagination; as the veil slowly slips on the world that's been imagined for us.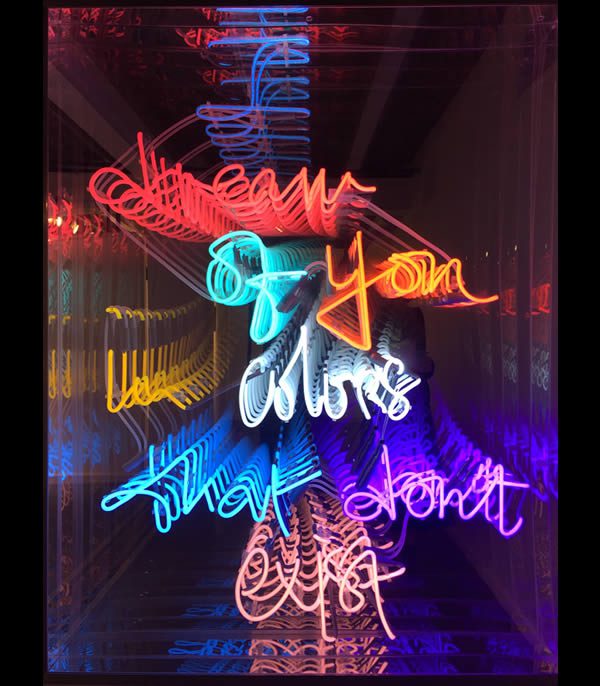 A key part of our collective evolution, says Steele, is 'replacing fear of the unknown with curiosity, and nurturing your imagination in a journey to identify one's purpose' — importantly, discovering what is Faux, and what is Real. The artist's introspective musings on our spiritual self will be familiar to anyone who has invested even just a little time in attempting to uncover the narrative we, the 99%, are perpetually fed by the privileged few: 'adaptation is key as we all confront inconvenient truths and uncover shocking realities of our status quo and the uncertainty of our existence.'
Currently showing at Berlin's Circle Culture Gallery, the works in Faux Real include truisms, illusions, and illuminated metaphors that reflect the self-realisations of an artist unravelling the delusions of a conventional American upbringing. 'Art is metaphor, and so is this exhibition,' she continues, 'I invite you to reflect in the illusions, question my words, test your faith, observe your reactions, and most importantly make light of this crazy ride we're on this time around. May my manifestations empower you and amplify your process as we enter into an age of light.' Enlightening.
Olivia Steele, Faux Real, continues at Circle Culture Gallery, Berlin, until 3 September.