There was an aquatic theme to the art installations of Jeremie Maret as the Swiss artist exhibited six more ideas in Zürich for ongoing art project The Proposal. The Proposal No.9 took place at the Frauenbad Stadthausquai, an historically important floating bathhouse for women.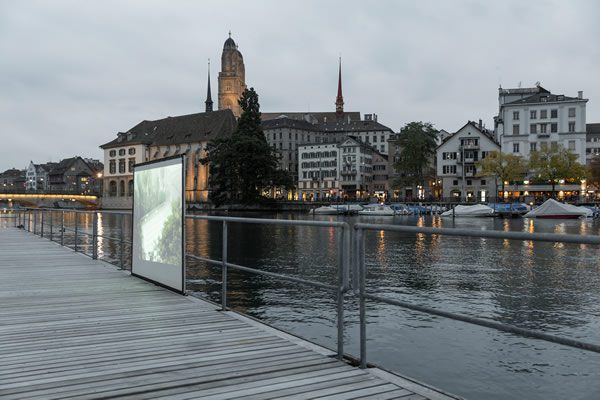 Built in 1837 on the Limmat river, it was a vital facility for hygiene in the days before running water was available in homes, and is now a top tier Swiss conservation building. Maret took his cue from the location to conceive a series of works concerned with contemporary topics around water.
The pieces occupied the site for two days, accompanied by a live set from bit-tuner and an appearance from water pollution campaigner and inventor Ralf Steeg. Maret's installations ranged form the serious political message of Flüchtling Will Kommen, addressing the refugee crisis, to the more offbeat Safety First, in which a pair of fisherman's waders and a buoyancy aid stand mysteriously devoid of their occupant. If the latter work is eerie, there's a definite sense of peril washing over Swimmer. The looping video, filmed on Maret's balcony in Bangkok in 2011, shows a man swimming in an outdoor pool as a tropical storm lashes down. Determined, foolish, or oblivious?
Other topics to be addressed by Maret include global warming, criminality in the art market, and the immoral water-privatising tactics of the horrible bastards at Nestlé.