London-based artist Celina Teague clearly has a love/hate relationship with social media. In fact, don't we all? It consumes Teague, though; her latest body of work a critical look at 'hashtag activism'. I think therefore I # opened this week at south west London gallery Kristin Hjellegjerde Gallery, and asks questions of the intentions behind hashtag reactions to the endless cycle of international crises.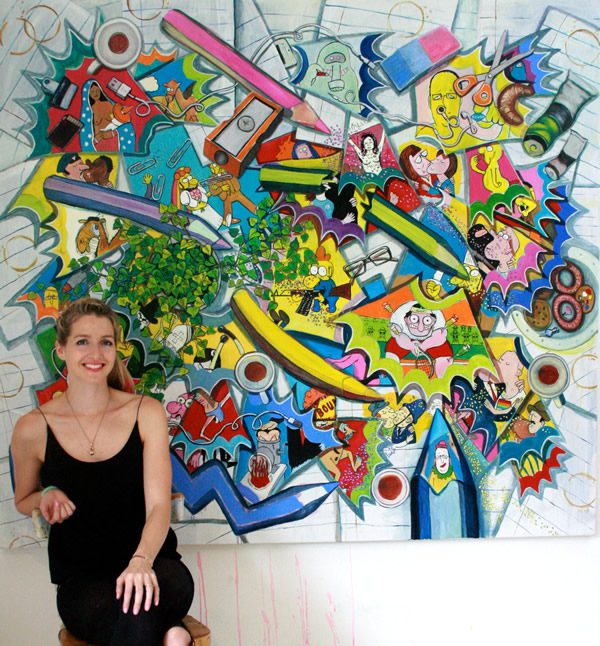 "I feel like Twitter is becoming this waiting room where opportunists bide their time until they can pounce on and get the bandwagon rolling over their next target. Hang around long enough in this toxic virtual cafeteria and you'll find someone to demonise and something to rant about", Teague asserted in a recent article for The Huffington Post; aimed at the recent witch-hunt trials-by-Twitter of Justine Sacco and scientist Tim Hunt.
I'd be inclined to proffer that nobody should get away scot-free with posting 'Going to Africa. Hope I don't get AIDS. Just kidding. I'm white', but the questions Celina Teague poses to armchair activists are interesting ones indeed.
The artist's cartoon-style paintings echo the barrier that social media and the digital screen places between the public and the events that trigger these campaigns — the Arab Spring; Kim Kardashian; the Chibok schoolgirls; selfies. "The Daily Mail – the world's most read online page – ingeniously places two columns side by side. When the depressing images from the left hand news column get us down, switch the right for some lighthearted showbiz frivolity." For sure, we are in a world where voyeurism consumes us; regardless of the severity of subject.
I think therefore I # runs till 5 September.