1953 was a hell of a year for the Los Angeles Police Department. The bodies piled up: liquor store robberies gone bad, crazed spouses and cheating lovers, gang wars, back alley brawls and straight-up, cold-blooded killing. This was a decade that saw L.A.'s population boom, with suburban migration creating an inner-city vacuum that sucked in the worst elements. Those left behind who remained on the right side of the law, and the well-to-do in the new neighbourhoods trying to beat back danger on their doorsteps, relied on the LAPD to meet fire with fire. In an era before omnipresent security cameras surveyed every dark corner and vacant lot, justice was often dispensed before the bad guys made it to jail. This was a war, with casualties on both sides.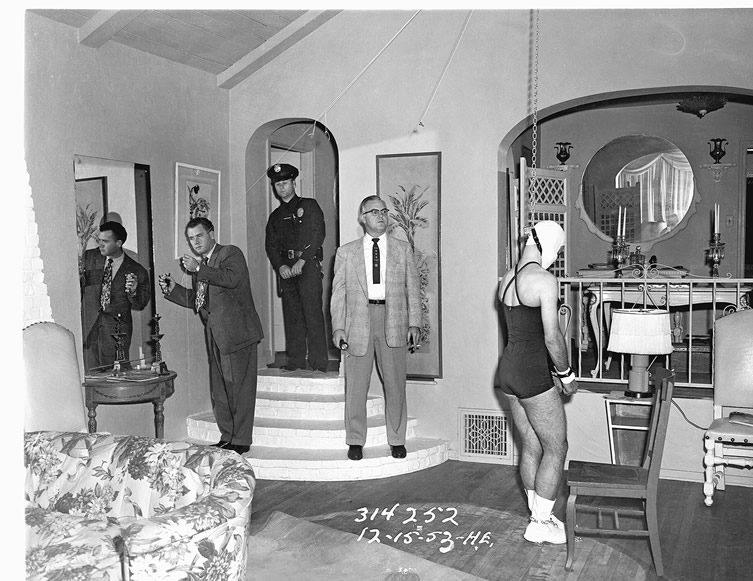 The stats, such as they were in those days, don't suggest '53 was anything out of the ordinary when compared to the trends for the decade as a whole. But if there is one man to sniff out a peculiarly bloody story among the standard day-to-day violence of 1950's Los Angeles, it's James Ellroy. The author of peerless L.A. noir fiction including The Black Dahlia and L.A. Confidential is a long-time advocate for the LAPD, having written about the city from the cops' perspective in many of his bestsellers. Through his research he has for years been involved with the Los Angeles Police Museum, which holds an amazing archive of true crime as shockingly brutal as anything on the pages of The Demon Dog's books.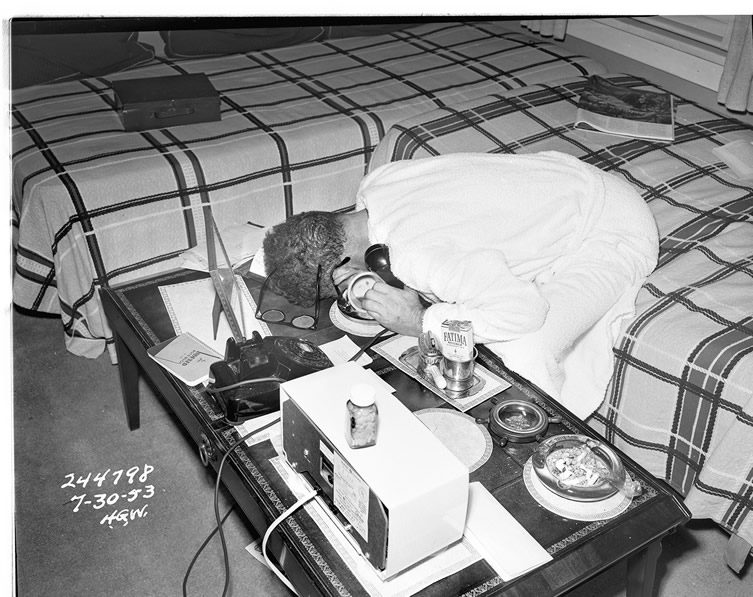 Ellroy was combing the museum's photo collection when the grisly picture of 1953 revealed itself. It's a picture played out by a cast of misbegotten corpses — blood-soaked in the back seats of cars, strung up like marionettes in fatal sex games, and slumped pitifully after pill-fuelled heart attacks. The imagery Ellroy found appealed to his storytelling brain and twisted sensibilities to such a powerful extent that he has collaborated with the museum's executive director and 20-year LAPD veteran Glynn Martin on a new book. LAPD '53 features 25,000 words penned by the author that bring back to life the tragic figures that populate more than 85 evocative black and white photographs.
Alongside crime scene evidence shots, the book reveals the grim humour of the LAPD "dicks", who would resort to macabre horseplay as a way of coping with the incessant onslaught of violence and death they faced every time they clocked on for a shift on the mean streets of the City of Angels. LAPD '53 by James Ellroy and Glynn Martin is published by Abrams and is available in hardback and digital.