Ruby's in Dalston may well be the archetypal example of what the new East London is all about. A discreet location (the basement of an elegantly wasted townhouse), an innovative cocktail list put together by a top mixologist (Tom Gibson) — served in oddly-shaped receptacles, naturally — and a decoration job that manages to pull off its careworn look with aplomb, tipsily teetering on the interesting side of knackered. You will find this not-so-well-kept secret underneath an illuminated cinema sign at 76 Stoke Newington Road, although Ruby's is too cool to advertise its presence directly.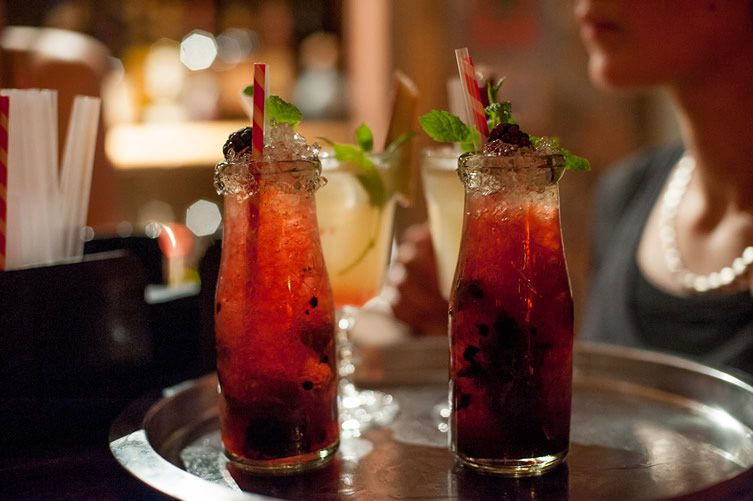 In their own words: "Set underneath the cinema sign at 76 Stoke Newington Road, Ruby's is an intimate subterranean drinking den serving expertly mixed cocktails and quality alternatives in a unique and atmospheric setting. Set up by Tom Gibson in the former kitchen of Chinese takeaway Ruby House 3, the room was stripped back and adorned with a Mayfair bar and some delicate interior alterations.
Drinks are made using quality ingredients – premium alcohol and all juices and syrups made on site. We place great emphasis on the small touches, our glassware has been carefully sourced and our beer mats are vintage. Ruby's aims to fuse the atmosphere of an old fashioned London pub with modern day standards of quality and service.
We have a small, carefully crafted cocktail menu including 7 Ruby's classics and 7 seasonal ones plus a selection of alternatives including Pressure Point Ale, Brooklyn lager and fine wines."