Emily Motto is a bright young artist exuding an infectious enthusiasm across disciplines of sculpture, installation and drawing. Just this year she completed her BA at The Ruskin School of Drawing & Fine Art, as well as winning two art prizes: The Clyde & Co Blank Canvas Art Commissioning Prize and The Red Mansion Art Prize. We're not surprised at the accolades, Motto has a way with materials that is experimental, innovative, unafraid to test boundaries – even inventing her own dough to manipulate through fabrics and wires.
Motto's work manifests curiosity, it is playful and colourful, with a modern fluorescent palette. Physical objects where presence and/or absence are reflected in light and/or heavy materials are constructed and deconstructed. Essentially Motto makes oft familiar materials behave in very different ways – resulting in amusing, mischievous structures. You want to get close to her work, you want to touch, look and explore – whether due to the forms themselves, often appearing humanlike, or the vibrant but delicate palette. At this year's Saatchi Gallery New Sensations, her selection of work included sculptures involving extrusions of handmade playdough and bread through, found and crafted structures, exercise balls, and prints of images taken from Facebook. There's potential for such things to become weighed down with arty pretension, but in person, Emily's pieces present a treat for both the eyes and mind.
We grabbed the busy young artist – before she ran off to Beijing for a new artist residency – to discover more about her work, inspiration and how the materials she attempts to manipulate sometimes create happy accidents worthy of development…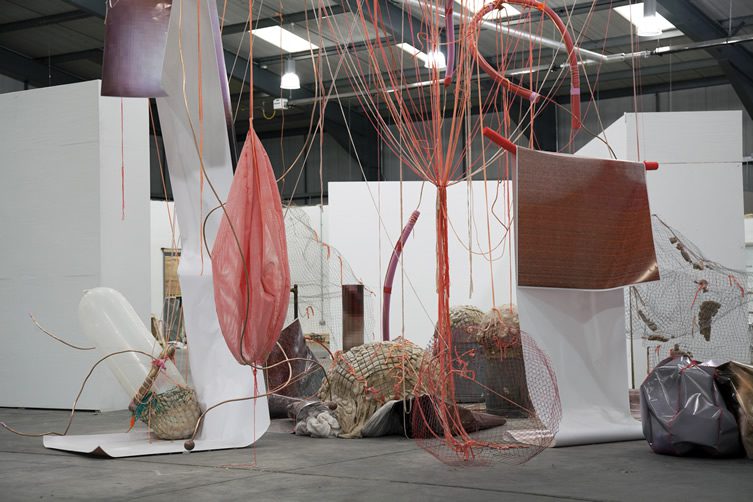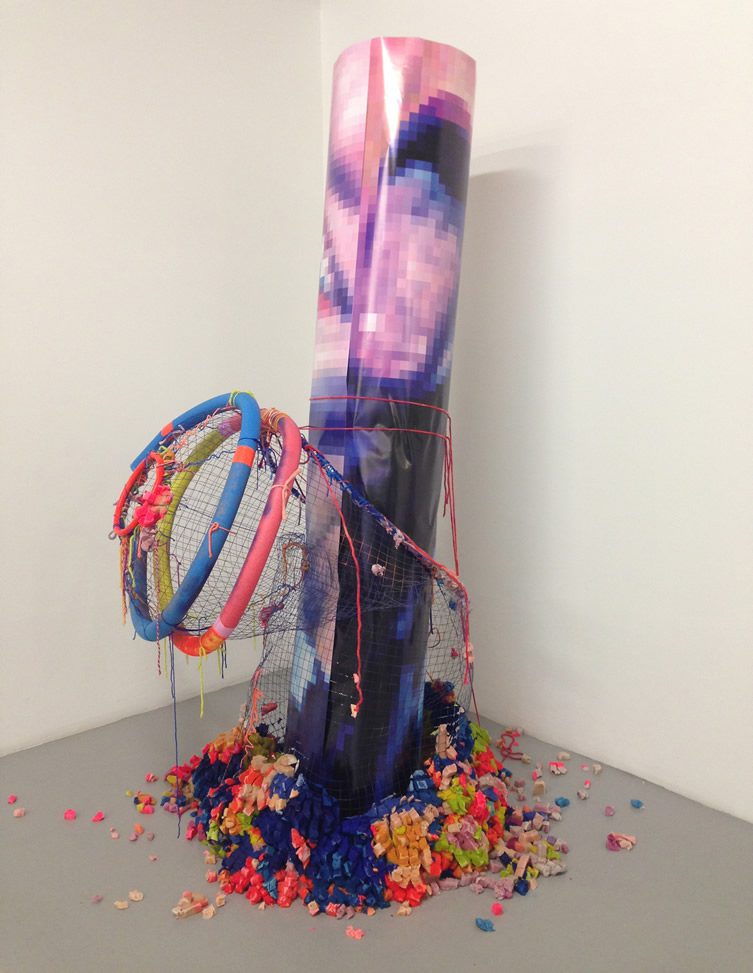 How do you embark on each project? Do you start with drawings or experimentation?
 
Usually I switch constantly between the two, and I think it's a continual process as my drawings and material experimentation influence and inspire each other. I love doodling ideas, often thinking about potential experiments and possibilities, but also of shapes I would like to see and create. But if I approach making from a sketch, the work usually completely evolves as I am inspired by a material's behavior, and cope with unanticipated elements.
 
I think drawing triggers me to find a material that can act in a particular way, the most exciting part is that they usually don't behave quite as I initially expect.
 
What inspired you to work big? Does size matter?
 
Absolutely, size is so influential. I've recently been making these hollow figures using steel mesh (the Two Empty Postures for example) that each seem to embody the presence of an extra person in the room – even in their loose and roughly crumpled forms – through their scale and poise. I love how they seem to hold and contain this relative space, and find this really influences my encounter with them.
 
Choose your three favourite materials…
 
Well I love using playdough. I love to make it, mould it, and it's just really fun to play and experiment with. I find its texture and temporality exciting, and like how easy it is to mould, fill a space, and trace an imprint. Second material I think would be woggles (those floats you get in swimming pools), I have been using them to structure mesh frames recently – they're really fun to bind together, and they bend and curve so smoothly. Third would be my set of fluorescent pastels, which are definitely my new favourite drawing material. They add such a powerful vibrancy, even when blended into my drawings.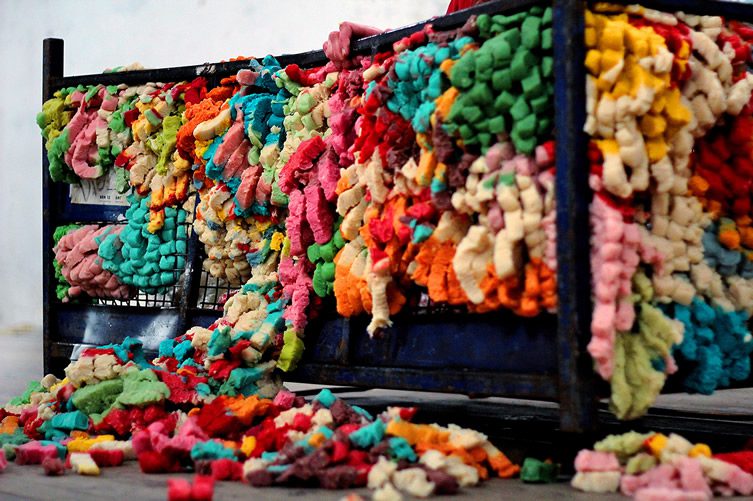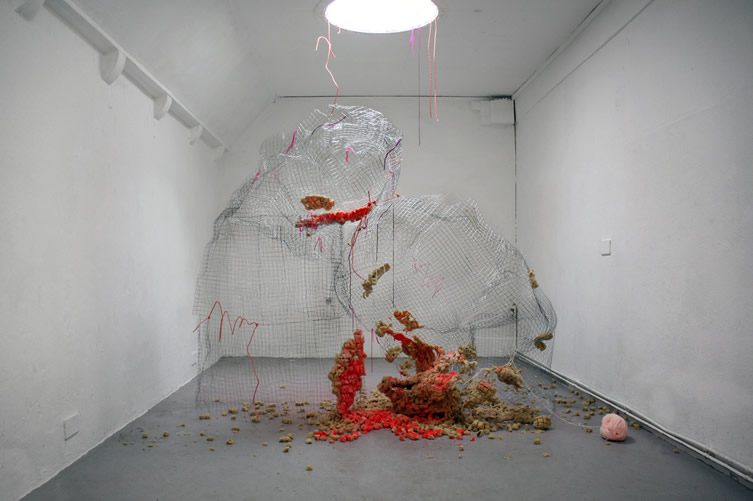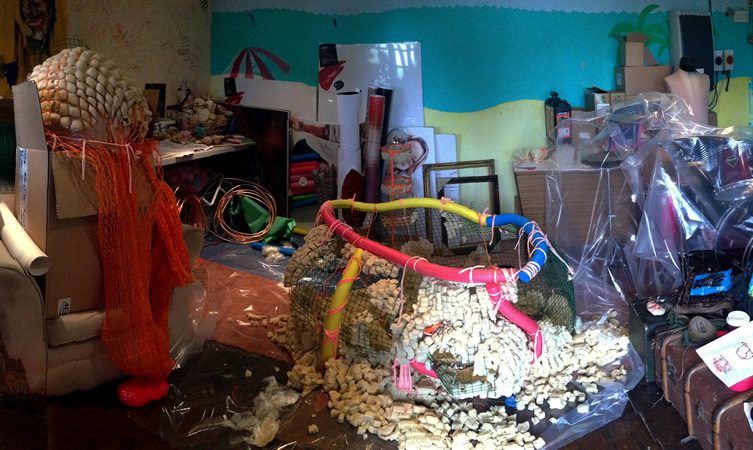 Are there any materials or practices that you are itching to get to grips with?
 
I would love to use more metal actually – I was really inspired recently by Ai Weiwei's Iron Tree in the Yorkshire Sculpture Park that's been rusting outside the chapel, creating a beautiful and vibrant orange surface. It was exciting to see a sculpture with such a dramatically responsive surface shown outside in the park.
 
Why do domestic materials (playdough or string) appeal to you? What is it about their 'everydayness' that attracts you?
 
I guess I first started using string by accident, instinctively, to quickly hold something I was making in the studio. It just happened to be lying around. I liked the necessity of it. I think their convenience and 'everyday-ness' allows me to play with them more freely and not be too precious about them; but it also brings with them familiarities, and I like how this can make my pieces more accessible for viewers.
 
I find it exciting exposing alternative purposes for common materials like these – introducing a new kind of recognition of their qualities and properties.
 
Your handmade playdough has somewhat defined your sculptures this year, will you be pushing the boundaries with it or working with something new?
 
Since working on my steel mesh pieces I have actually become more preoccupied with the underlying structures that I build to transform and hold the dough, and have been filling them less and less. I'm more driven by how they bend and warp in response to the added weight, but also by the empty spaces lying inside where there is potential for material to be extruded and transformed. I think I'd like to push this absence/presence with the work.
 
How do you decide on colour? Your palette is not only playful but invites the viewer to get closer. Is approachability something you consider?
 
With colour I use what I like and what I think works together as a composition when I'm making – so yes attraction is definitely important.  I've been fascinated by this fluorescent pink/red/orange colour recently, which is so vibrant it's difficult to categorise, and I think my attraction and fascination with it has lead me to use it a lot.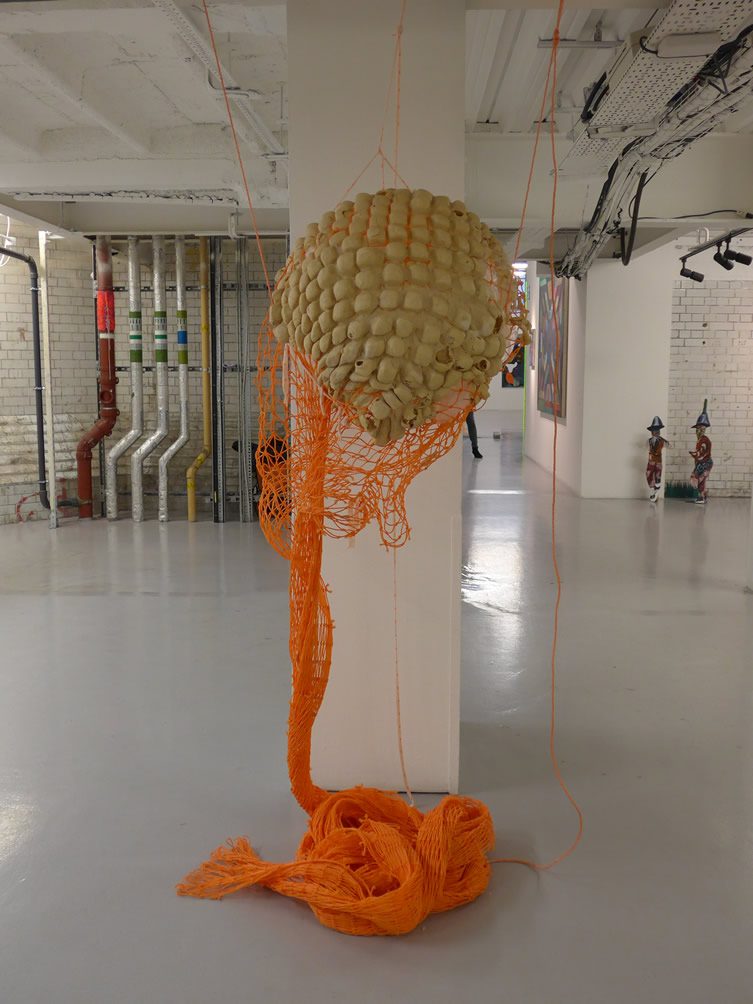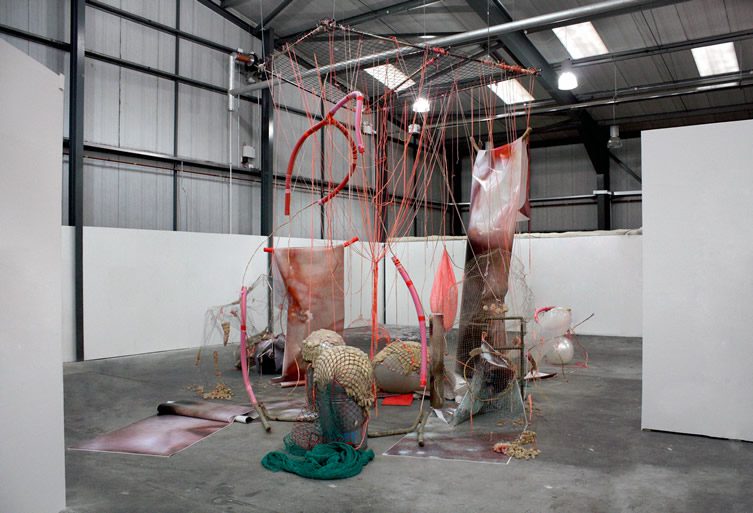 We love how your work explores your control of materials that become so distant from their original function. Is that something that comes naturally?
 
I think taking their properties out of context gives them a newer excitement and recognition – such as the yeast in rising bread to create bulging sculptural forms. I find it much more fun delegating elements of the making process to aspects of materials I make and choose like this, and I suppose it raises significance of them by tasking them with a different role, and exposing their qualities in a new light.
 
Tell us about winning the recent Clyde & Co Blank Canvas Art Commissioning Prize. What were the considerations and your ideas behind that wall?
 
For the Blank Canvas prize I was commissioned to create a wall piece along Clyde & Co's 18m long corridor on the top floor of the St Botolph building in London. I made The Passing Wave, a piece composed of 50,000 hot melt glue sticks pushed through a metal mesh along the full length of the wall, in a wave mimicking the transient movements that occupy the space. I wanted to make an active work that is constantly responsive to both light and temperature conditions; visually changing in appearance in reaction to changes in light entering the corridor, and physically changing its tactile form in response to heat in the space that melts, droops, and welds the glue to the mesh. The wall is positioned opposite a window, also allowing the piece to be seen from a distance in the offices across the atrium.
 
I was really excited by how these sticks capture and hold light that enters the space through the window; at times appearing completely transparent, but from certain angles forming opaque pixel-like panels of reflected light. I was passionate to really engage with the space of the passing viewer along the wall – especially the ones who think they're too busy to look as they run past it! Their movements past the work reveal different angles and glimmers of the relief as their viewpoints of the surface change.
 
Encounters with the work are highly dependent on the conditions of the corridor and the activity of the viewer in the building. And if seen from afar, the clustered 'pixels' can form images for people looking from the other side of the atrium.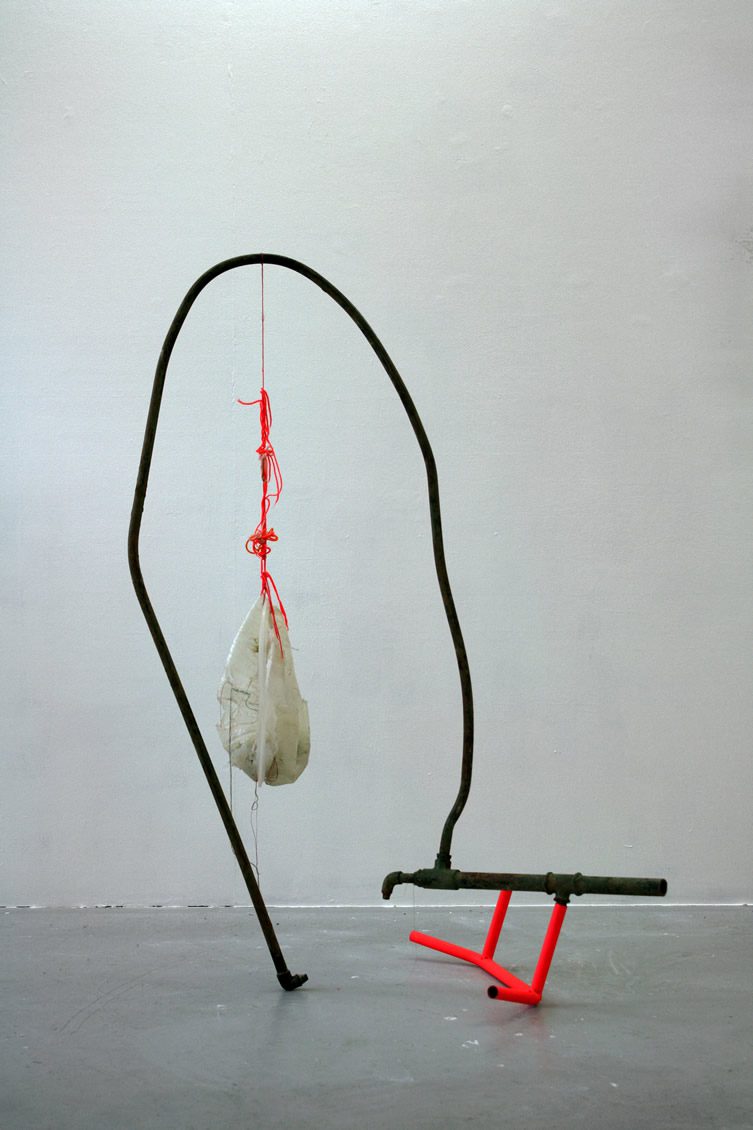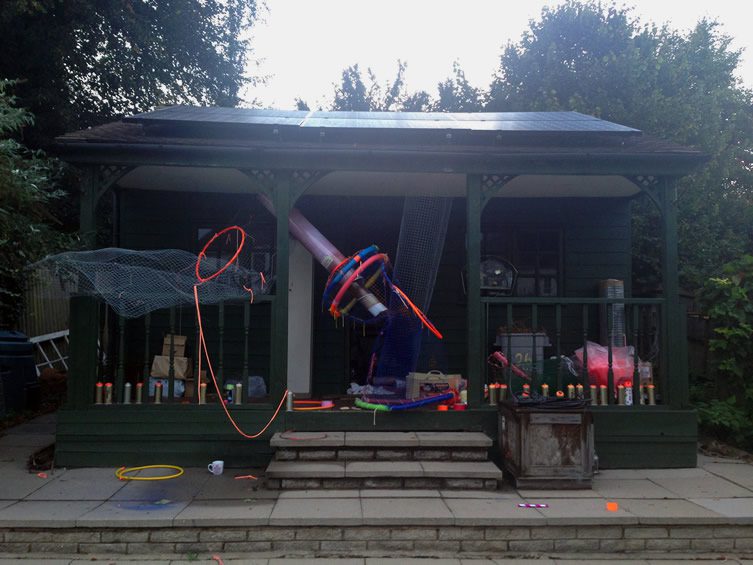 We'd also like to know about the inspiration behind the Absolut Commission at Saatchi New Sensations.
 
For my commission I created an Absolut (bottle) play-frame that is structured by and dependent on playdough, and a giant roll of Facebook documentation taken from a party. Absolut's focus on freedom and celebration inspired me to explore the notion of 'play'; how the image of it  – and ideas of 'fun' – evolve as we grow in age, but also transform as events are remembered and documented. We were briefed to engage with a theme of transformation. In addition to notions of play, I wanted to structurally transform the form of an Absolut bottle through an act of 'playing' in and extruding playdough through it, and result in a sculpture that continues to change both physically and visually.
I wanted to activate transformations of the unstable elements I used to compose the work's image, structure and physical materiality; allowing the flexible mesh, the crystallising playdough and the pixelated photograph to change and develop throughout making/exhibiting/viewing processes.
 
Your demeanour is that you're a lover of life with an inquisitive soul. What has shaped the development of Emily Motto?
 
[Laughs] I'm so flattered! I guess I like to find out how things are made and where things come from – and I suppose that's where my sculptural experiments stem from. What's important for me is that all of the experiments I select and choose to work with still retain a kind of 'magic' element in their nature: in producing something unique that remains visually exciting even once the process is understood.
 
I'm very inspired and intrigued by how we are created as human beings: how bodies grow both physically and spiritually, and how these two elements are connected.  I see the sculptural forms I make behaving like figures – sensual, tactile, fragile, unstable and transient – and I think the practice of making them helps me process and think through our human creation too, the deeper nature of our being that is in, but also extends beyond, our physical composition.
 
So what's next?
 
I'm just about to leave for China later this week to do an artist residency, which I'm so excited about! My studio will be in Beijing, and I'm really looking forward to discovering the city and absorbing new culture. Top of my to do list is to take cooking classes there – I have a feeling dim sum might be the new dough…
***