Map gazing, the promise of travel, adventure, experience – I have nostalgic notions towards historic expeditions, of giant oceans devouring ships and whole new worlds to be discovered. There is something in the tangible that Google and its Maps™ and its Earths™ and all its fancy 3D shenanigans somehow fail to replicate. Maps, atlases, globes: fascinating throwbacks to an age of innocence and of quizzical curiosity – getting your head in a spin over scale, land-mass, trying to fathom just what living 52 degrees north of the Earth's equatorial plane means.  
 
The laborious art and study of cartography may be hugely overwhelming, yet it is a hugely rewarding skill taking in mixtures of aesthetics, science, trial, error and steady-handed craftsmanship. Not that I'd know, I'm still frightfully overwhelmed – but a visit to a Stoke Newington studio leads us to a man who does.
Peter Bellerby, owner and founder of London's Bellerby & Co., was never actually a cartographer proper. Bellerby was more of an Ernie McCracken at heart – a co-founder of the once-hip Bloomsbury Lanes in Holborn. From one ball to another, though, it would seem spherical objects have Peter hooked. The idea to make a globe came after a series of unfruitful quests to find one for his father's birthday. Options were slim: buy a crappy replica with half of Wales missing and something called Yugoslavia dominating Southeast Europe, or fork out on a fragile antique barely suitable for use. How hard could making a ball and putting a map onto it really be?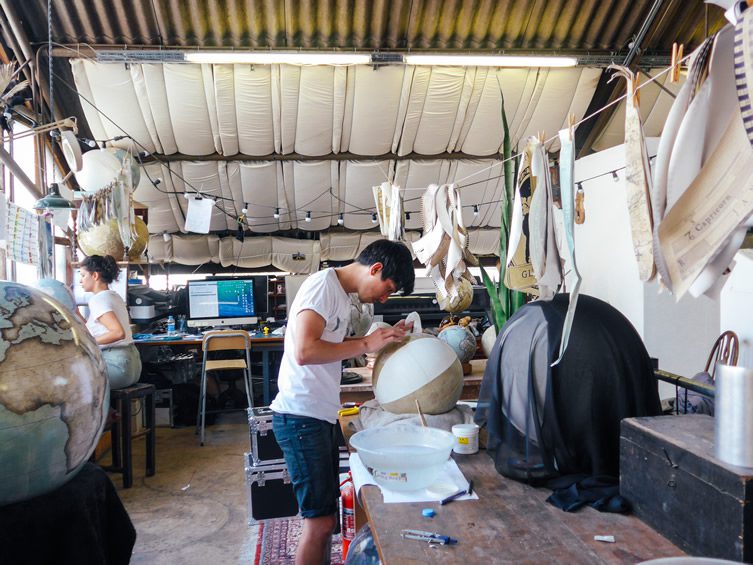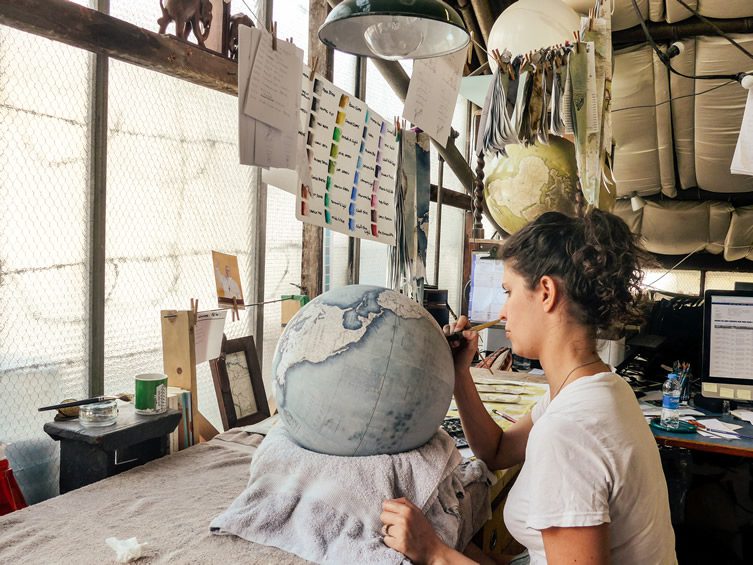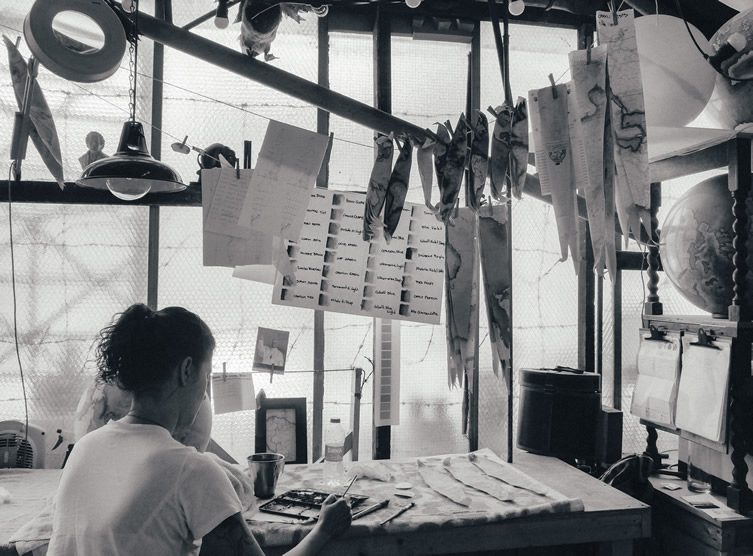 As it turned out, very difficult and very expensive. There were licenses to get lost in, and finding a correct world map took an entire year to get right. Then there was the challenge of creating gores – triangular shapes that fit onto a sphere – the actual making of the ball (Bellerby & Co.'s about us section (paragraphs 5 and 6) painstakingly explains much better than I ever could). Once the make-up of the globe was conceived, the 'goring of the globe' had to be realised – a meticulous application that has no time for overlapping, hiding, creases or mistakes.
 
Peter's gift may have been a few years late, but Bellerby & Co. was born. To date, clients include Harrods, Hollywood movies (Scorcese's magical Hugo), the BBC and a mix of international private clients. One of the very few remaining globemakers in the world, their Bouverie Studio is a warren of odds and sods, of craft and care and experience. All around the workshop lie drying strips of painted gores, globes in miscellaneous sizes rest in waiting, pots of brushes and discs of paint… the familiar glow of an Apple computer screen the only reminder that it is the 21st century. Each work is crafted by hand, from goring to finish – painting in shadows around continents before sealer applied. Traditional methods meet pioneering design techniques (patent pending), Bellerby & Co.'s globes are at the pinnacle of their market, and a shining beacon for the great and the good in the modern maker's world.
***