Julian Pablo Manzelli, aka StudioCHU aka Chu Doma is an artist, designer and animation director from Buenos Aires, Argentina. After a youth influenced by skateboarding culture, travel and biology, Manzelli graduated as graphic designer at the University of Buenos Aires, where he now teaches. The artist's style has developed through a process of constant experimentation, collaborative work and early education in science, math and geometry.
Julian Pablo is a founding member of the Doma Collective, a renowned multidisciplinary and experimental art group known for their public art installations. Through their collective activities Chu discovered public art, toy design and art installation, leading him to specialise in animation and work as part of the creative team at 'Locomotion Channel' a cult animation channel broadcast throughout Latin America and Iberia. 

In recent years Chu has devoted himself actively to street art painting, creating murals all over the world. His style is characterised by the use of characters with curved shapes and the creation of geometric-abstract universes, which he produces paintings, murals and wonderful multi-layered sculptures, spanning the gap between wildly expressive street art and obsessively precise studio work. We caught up with Manzelli at this year's Pictoplasma Berlin for a chinwag about science, culture and future plans…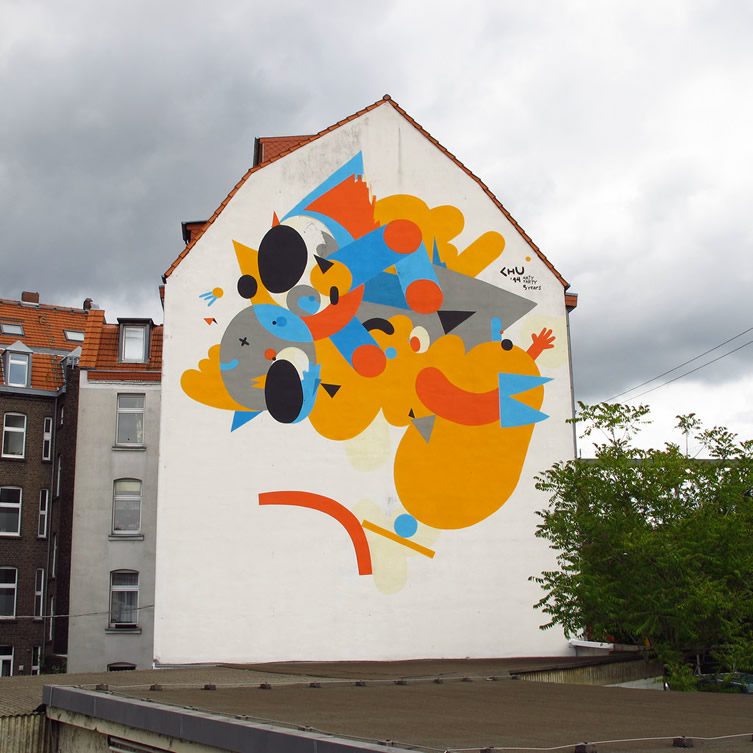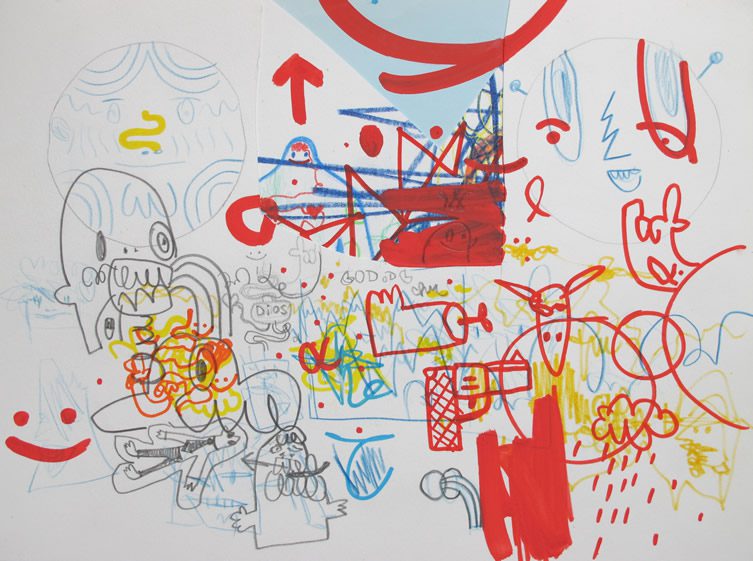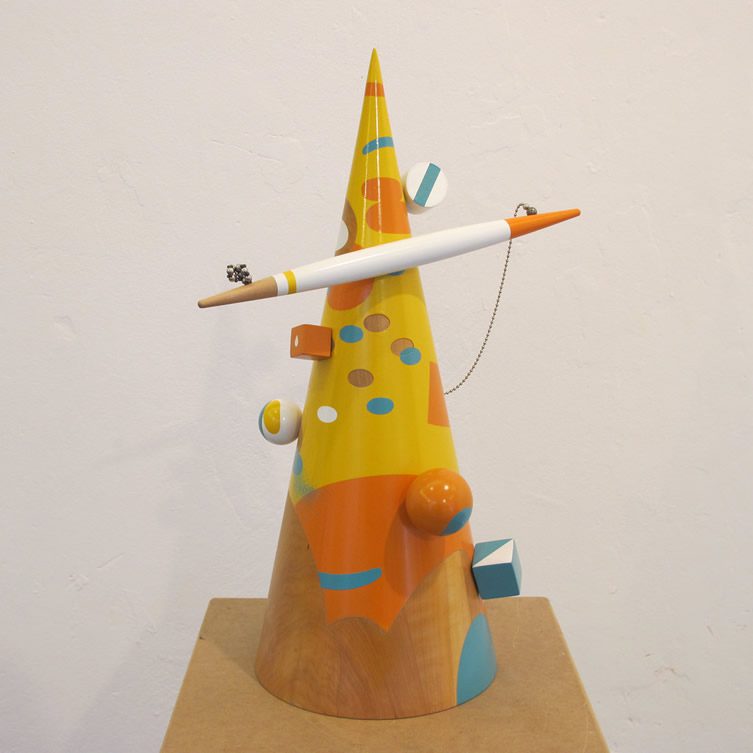 Let's begin by talking about your background, tell us about Doma and your journey into art?
One of the first things that we did as a collective was set up our own silk screen print studio, printing posters, stickers, postcards and started to put them all over the city and the University in 1998 under the name Doma. In Argentina we have an interesting history of political, social posters that are really well done, with strong content and messages but the feeling you get when you are standing in front of them is not positive – most of them talk about political history, and we wanted to create work that had something more positive to say. We wanted to introduce something new to the landscape around us.
This led to installations and characters, and suddenly this explosion of designer toys appeared on the international scene – and we'd already been doing this kind of thing on a bigger scale. At this point we entered the world of designer toys and worked on this for many years, and started to gain recognition for this. We created one of the seven Dunnys toys that are in permanent collection at MoMA.
It was great to have a strong presence within the designer toys scene, but then we got bored of it. We had many things we wanted to do, it was time to move on. In Doma we started to give up characters, and take a more serious direction focusing more on fine art. We always have quite a strong social, political content within our work – there's always a message within what we do.
Your early studies in Math and Science continue to have a significant influence on the way you make art – can you tell me more about this transition?
Exactly. Trips always help. They clear our minds, make us view the whole picture. And that helps when you need to make a life decision. Travelling worked for me this time and many other times in my life. I remember I was in this Math class, one of the first ones of the college year after my trip [in Brazil] and suddenly I just had the urge to get up and leave. I always liked to draw and paint. I was the one in the class that drew all the time, but I also liked Biology and Chemistry, and my Father was an engineer. I tried first this career and I really enjoyed it until that point. 
After I graduated in Graphic Design I started meeting other artists, and when you're part of this community you get invited to meet up with people and visit them in other places, so there's progress into new projects – things start to move quickly. I was getting invited to different countries to do shows and participate in festivals and I gradually I started to make a living off my art which made me realise I could do it. I have a lot of memories and lessons from that experience that I take with me.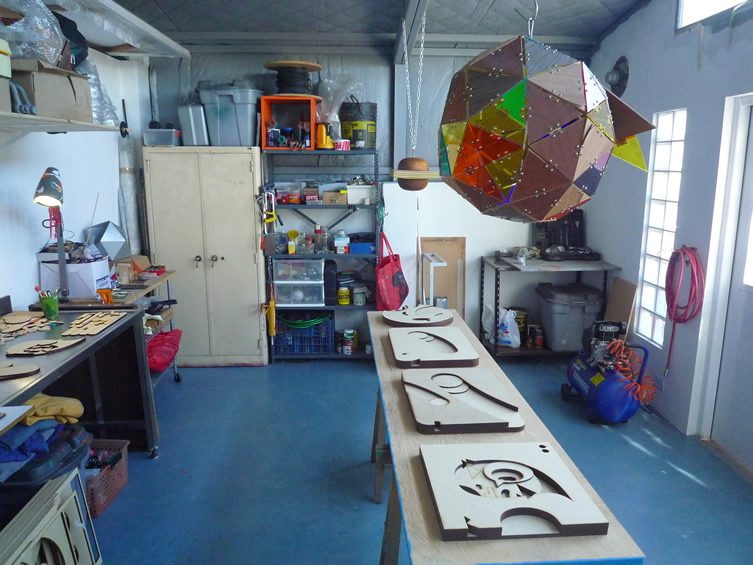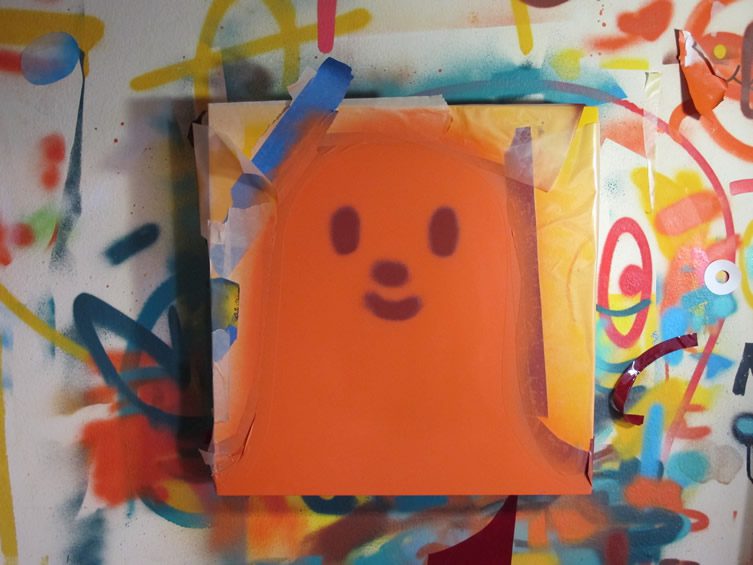 Your exhibition at Pictoplasma Ultraviews included a number of wooden sculptures, 3D objects and multi layered, painted artworks – it's a marked departure from your early work – how did this style evolve?
Once I started lecturing I was more aware of my creative output, and took two years out just working abstract, it was difficult to relearn traditional techniques and start all over again but it was important to escape the computer screen. I started to use geometry, math influences – a mix of abstract work, deconstruction of my own characters to create a new visual language. Using this idea of creating different views, that each person looking at my art could see something different. And of course becoming a father has focused me much more to take my art seriously and dedicate time to it.
You mentioned working with layers in animation – was it just a way to develop that process with tangible materials, or a natural method to work in because you were used to making images this way? 
With painting usually, you start with the background and finish with the elements in front and you are working in layers. Then I discovered the digital world, and since then, I started to think digitally in some way, the software uses to work with layers, also when using sound software. I also do animation, and doing it analog, you need to use this technique too… so thinking in layers is about creating in some way. I just try to work more deeply about this concept and test it with different medias and formats.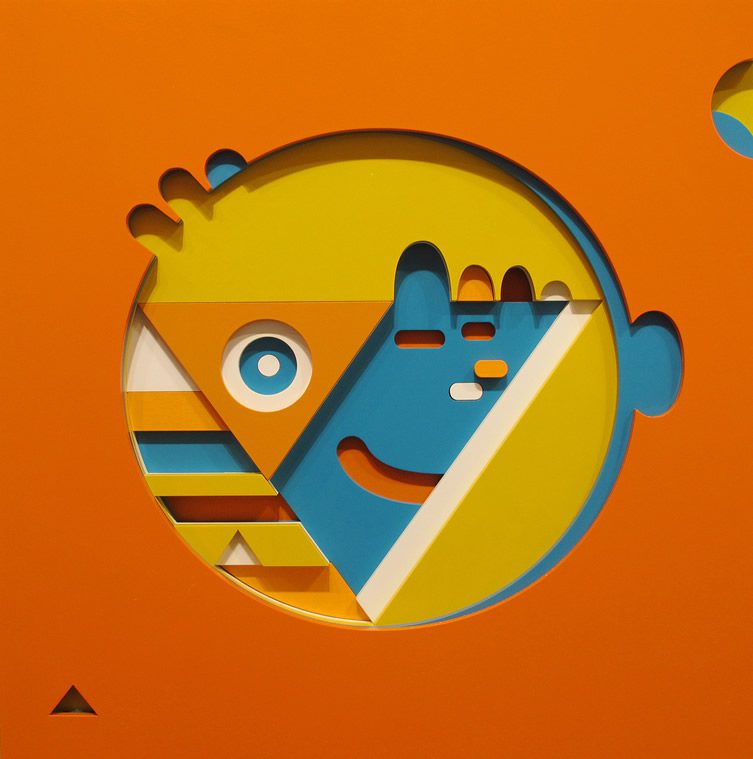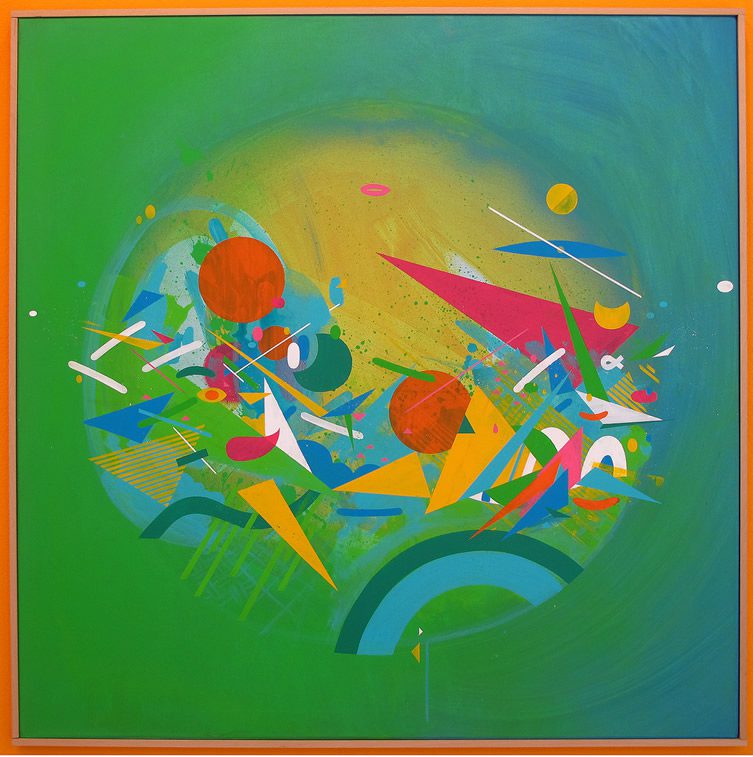 Working with physical materials is very different to digital – how did you learn how to work with wood and develop this skill? 
I always more or less manage and like working with my hands. Today computer programmes help a lot, especially for doing animation, something I love. But working on computer a whole day it is really not healthy at all. I did it for a long time and needed to stop, get outside and start making more in the analog world. For that I kind of study by myself and work with friends, also researching, asking, reading books, sharing, and failing a lot in the process.
Science, Math and Geometry are continue to have a significant influence on your ideas and art, what else inspires you?
Architecture and Fine Arts of course are things I am interested in, also music.. I listen a lot to many different things. Every day reality, our world, and the experience of travelling – visiting new places, meeting new people.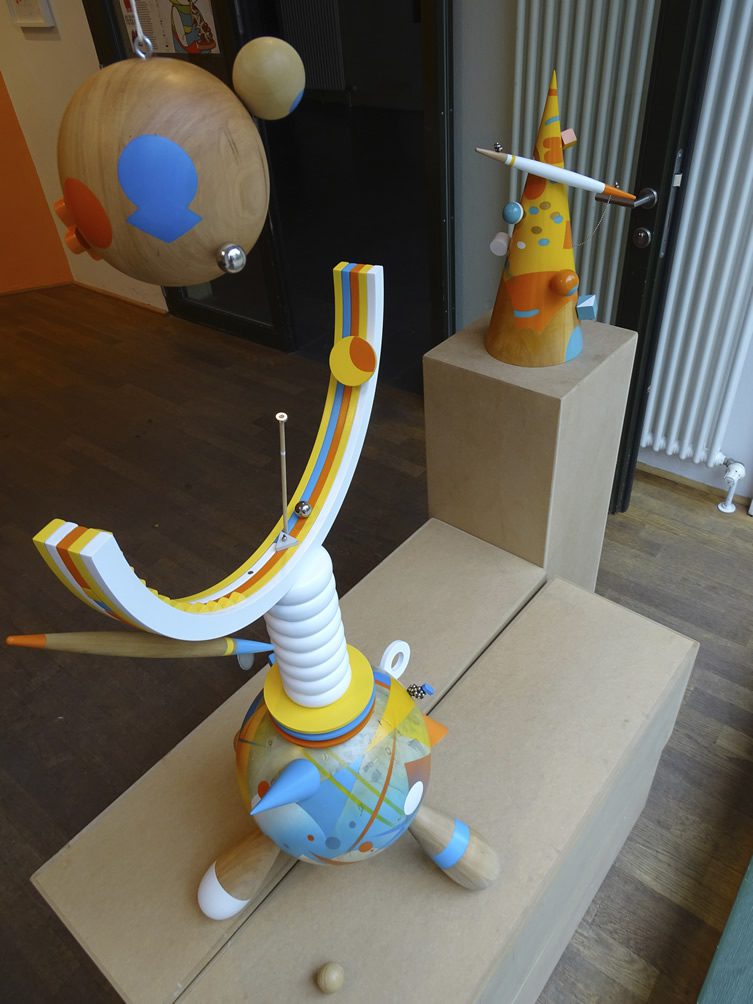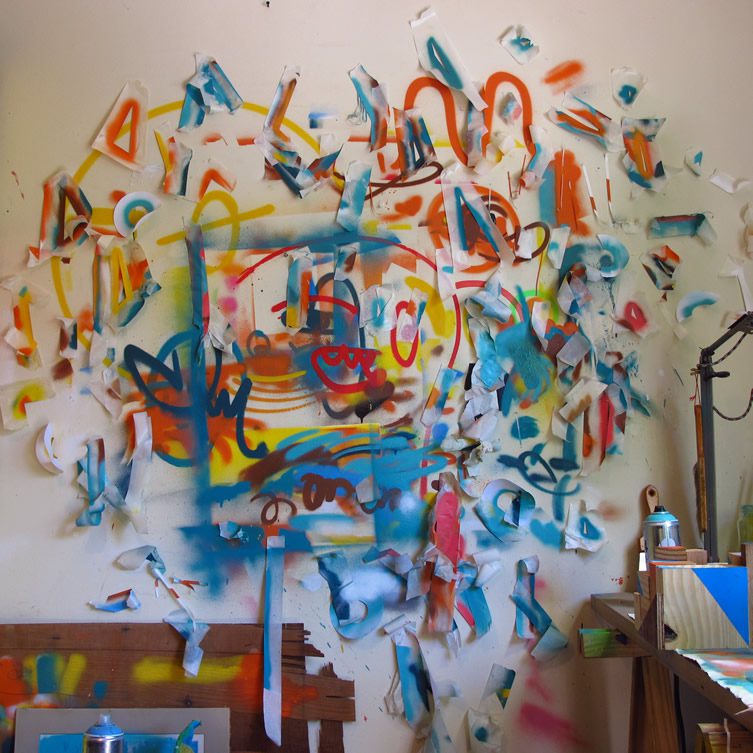 What is your working process in creating 3D works? Can you tell us about where you work?
I start with really raw pencil doodles. Then I try to imagine them in 3D and new ideas appear until reaching the final concept. I have my studio set with different areas to do the different works. Painting with Spray Gun, Tool Work, Canvas painting, computer and drawing, etc.
Do you still make a lot of drawings / sketches?
Always, more than the ones I need. Right now with my personal work I'm really unto pursuing the 3D pieces and sculptures and introducing magnets and kinetics. I've been doing a lot more outdoor art this year too, and I'm interested in pushing that further.
What are your plans with Doma right now?
Doma is starting to gain recognition again, and it would be great to get some funding to do a couple of big installations that we've got ideas for. Doma is really strong. Each individual member of the group has their own independent projects, but collectively Doma is bigger than us. We are more focused now in establishing ourselves in the international art market, we've participated in fairs, during Art Basel in Miami and sold work that was great. So now we're looking for more opportunities to keep the momentum. We are just about to publish a retrospective book and together we're planning an ambitious exhibition for next year.
***