Billy and Alex is Alex Godwin aka Billy. Confused? Yeah we were too. Trust me, there isn't a split personality thingy going on here (OK, maybe a little), just some brilliantly vivid, bold and cheerful work by one inspired artist. Instantly recognisable, the word 'fun' rings home when you get an eyeful of the one-lady-duo's colouful and intoxicating large-scale paintings.
We recently spotted her work in the HUB Store in Berlin and in Manchester's Common, putting smiles on city dweller's faces who are simply sick of taking things too seriously. Here we talk to Billy (and Alex) who is making it her mission to brighten up your public space, which – in our visually-tuned eyes – can only be a good thing…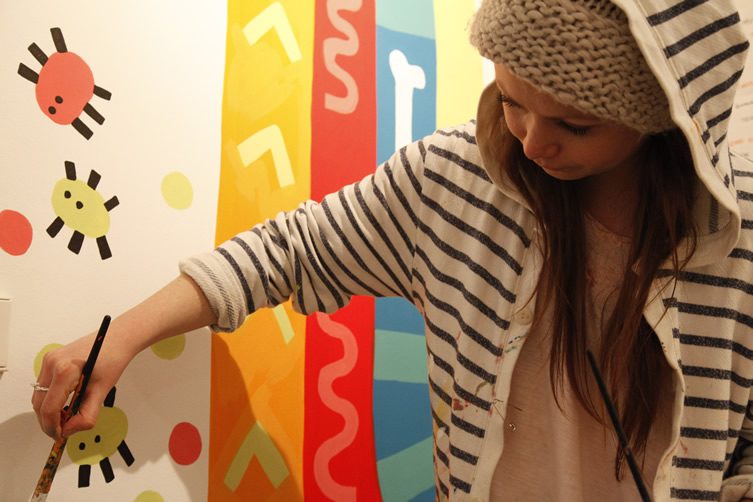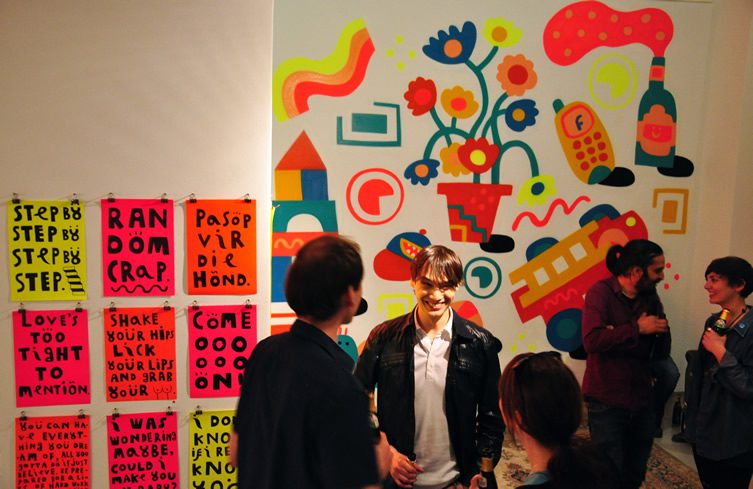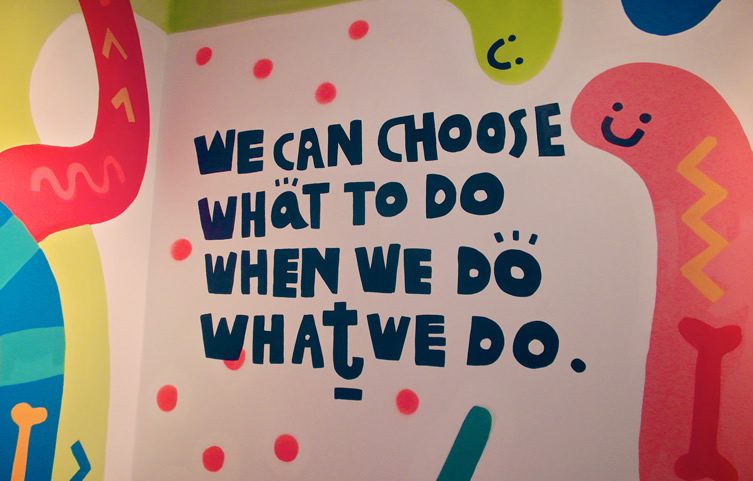 So who's Billy and who's Alex? Could you clear this up, we're a little confused…
I'm both! I'm Billy and I am Alex. Alex is just my real name. Billy my painting name. I think it confuses most people and they think I am a boy too. I think it's quite funny because it wasn't my intention to do that, for me it seems simple and makes perfect sense. Typing Billy or Alex individually into the internet brings up pictures of boys and dogs and girls with their tops off and basically anything that isn't me so I joined the names up, now you can find me!
Your work if fun, bright and positive, has this always been the case?
Yes, I am a happy and positive person and I like to use a lot of colours. Lots of people are wearing dark colours and the built environment in the place I live is always rather neutral and grey. Bright colours seem to cheer people up a bit and make them smile. I don't take my work too seriously because I have nothing too serious to take from life right now. For this reason, I feel very lucky so I'm having a lot of fun and this makes me, and my work happy.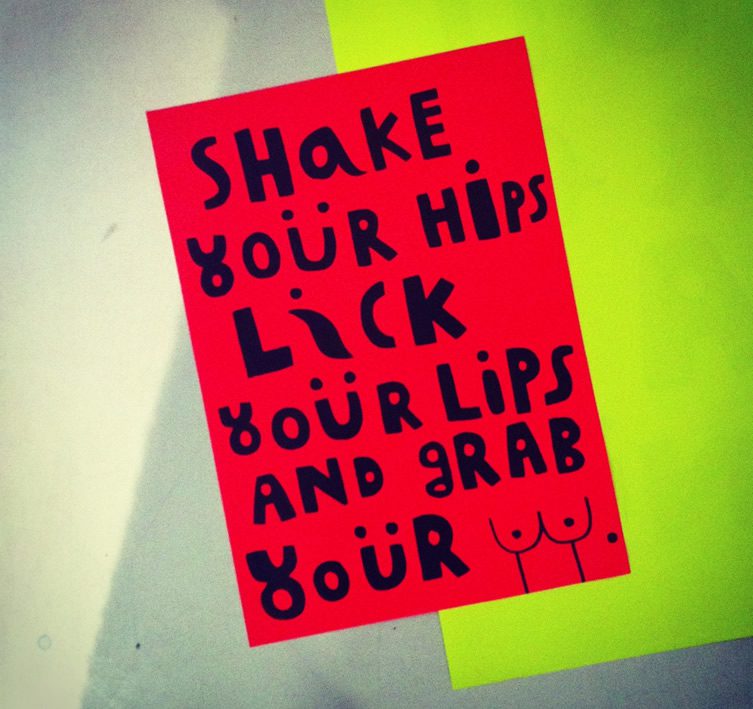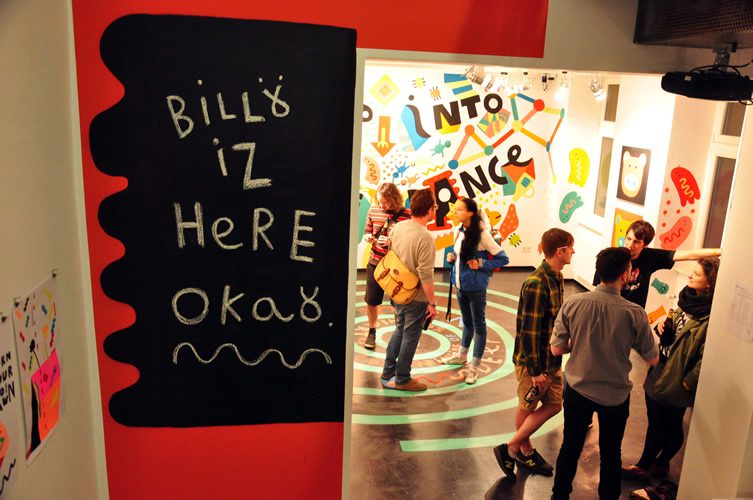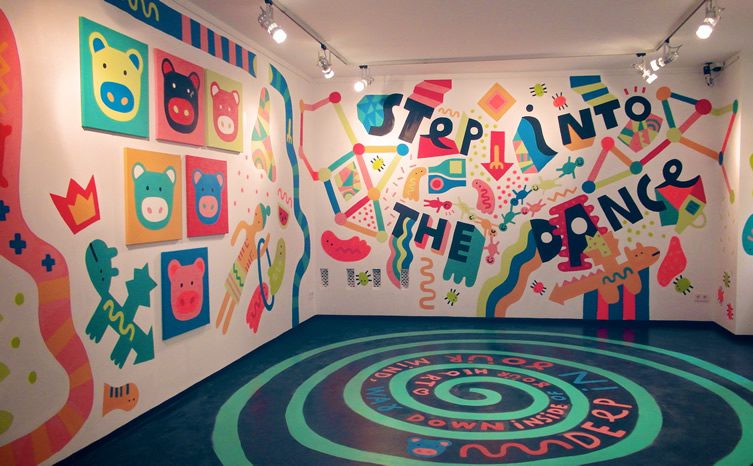 Where did you go to school/college?
I reluctantly went to school for a few years in a small mining town in South Africa. I had to wear a hat to school and a bottle green hairband, the teachers would hit you with a ruler if you didn't do you homework. It actually ended up having more of a positive influence on my life, mind and creativity than I could have appreciated at the time. I went back to England for university and studied Graphic Design in Nottingham.
What inspires you? Food, people, stuff, locations?
The places I have been, the places I want to go to. The people I have met, the things that I have done and all the memories from living a blessed life! Music (deep and soulful drum and bass / hip hop) is a big influence in my work, I find it quite hard to paint without listening to music. I like to incorporate lyrics from the music I listen to in to the work I make. I have for a long time been inspired by the lyrics of vocalist RIYA, I painted some words she said on a podcast on a huge hangar at Fusion festival last year and sent her the pic. She was completely overwhelmed that something she had said had inspired me so much. I love stuff like that.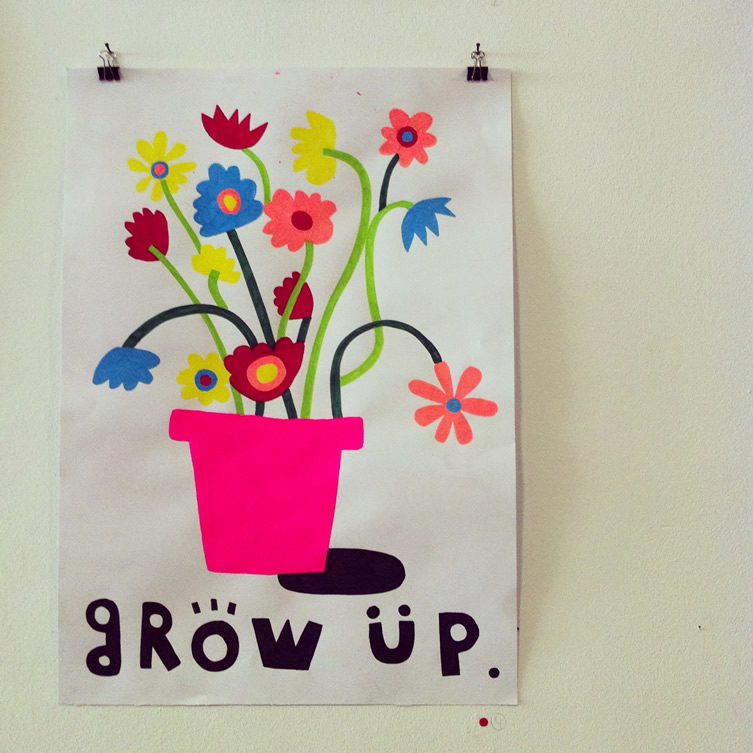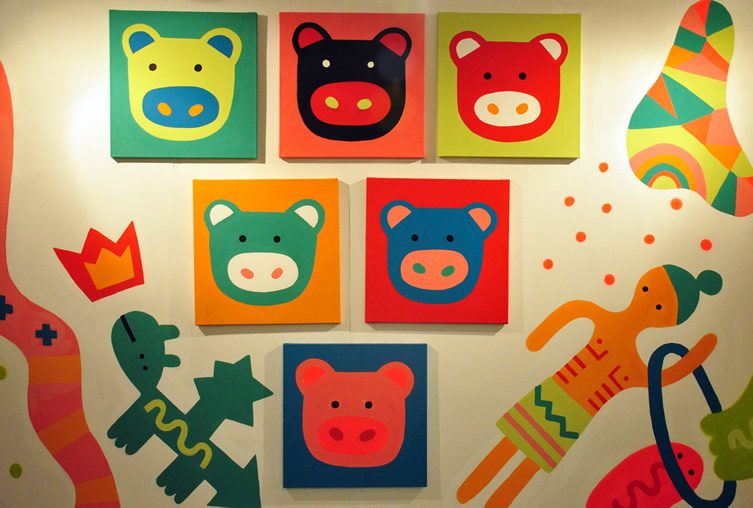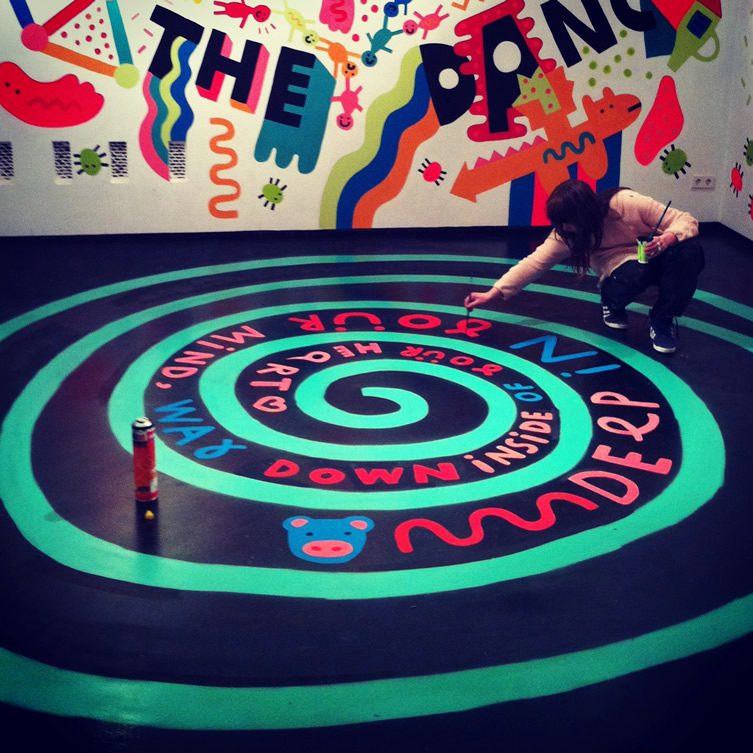 Can you tell us about the collaboration with Hub Store?
I was invited through YOUR:OWN, a creative agency based in Amsterdam to take over the space for a couple of months in a kind of residency and have an exhibition at the end of it. Pictoplasma came up at the same time so I used the space to work on two exhibitions simultaneously. It was a fantastic opportunity because HUB told me "work here when you like, do whatever you like, don't worry if you get paint on the floor" – I think I successfully fulfilled this as best as I could!
You like to mix things up, what is your favourite surface to paint/draw on?
Walls, the bigger the better and outside so people can see them, are the best. Other than that, actually I don't mind. Paper, canvas, floors, toilet doors…
And favourite medium to make your bold marks?
Spray paint!
Lastly, what's next on the cards?
Last week was the opening of my second exhibition at the HUB store, Still Life, which is up until 23rd May. Next, painting a skate park in the UK and a summer festival painting is as far as I can plan into the future.