When I was in Stockholm for Stockholm Design Week, I was very lucky to be invited to the studio of Färg & Blanche for a one-off exhibition of their work, some of which they hadn't seen for over two years, that was brought together for just a matter of hours. Fredrik Färg said: "We've never done this before. It's really exciting for us to see all the work that we have; and it will just be here for just a few hours and then we will go to the next show with our new chairs and this exhibition will disappear".
Fredrik Färg and Emma Marga Blanche, partners in both senses of the word, started their design studio 2010 after working independently for several years. I first came across their work at Stockholm Furniture Fair 2011, when they were commissioned to design one of the bar areas. The resulting installation was a perfect example of their wit and ingenuity. Emma said: "We created our own fake nature filled it up with dressed-up animals and kilt tribes!" The centrepiece; a big yellow creature-like creation, has now lives just next to the hardworking and noisy end of their studio, almost like a guard.
Their workspace is in a converted garage entered through a big door, then down a steep slope, beneath a slowly rotating skirt-like lamp. So far, so curious…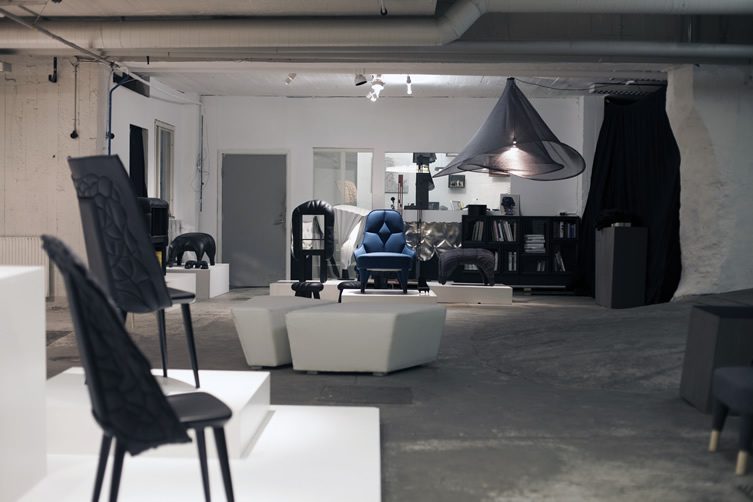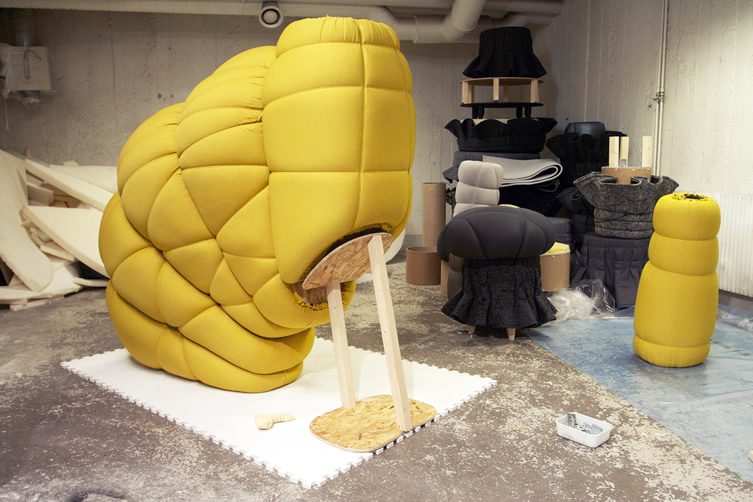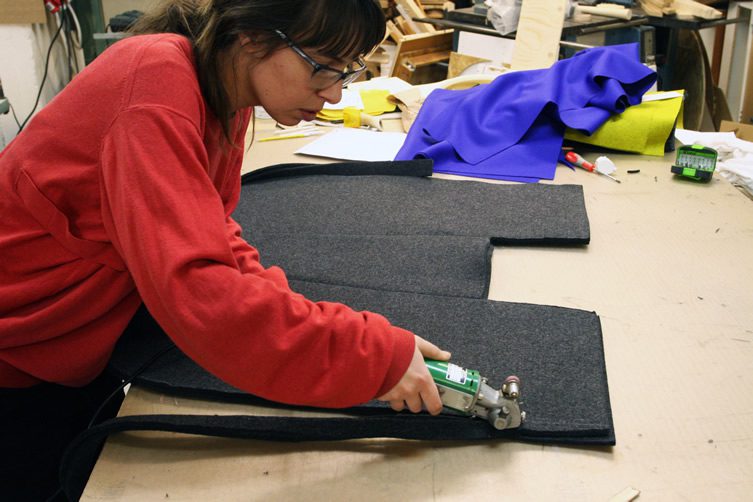 The star of the show this year was their F-A-B collection, otherwise known as 'Couture and Prêt-à-Porter for chairs'. Emma Marga Blanche said: "The F-A-B chair series is based on the idea of the chair acting as a body. The chair can be used nude and bare, but also reveal a whole new personality when dressed in something a little bit more extravagant, thus functioning as a load-bearing structure for textile creations". Inspired by fashion, the project brings a bit of fun, experimentation and flexibility into furniture design. You can choose from a range of garments for your chair – everything from a simple leather back to a sparkling patterned one – and swap them depending on the occasion.
The collection combines industrial production with precise handicraft; the chairs are manufactured by the oldest working shaker chair factories in Sweden, while the 'couture dresses' are handmade in the Färg & Blanche studio in Stockholm. Fredrik Färg said: "I'm a trained carpenter, but I love sewing machines, I love the detail that's possible, especially in an industrial setting like this". Despite having quite a collection already, Fredrik and Emma have just invested in a new sewing machine, to enable them to stich more heavy-duty fabric – it was their Christmas present to each other.
Färg & Blanche's client list includes Gärsnäs, ZERO, Design House Stockholm and Materia, and they are also involved with art projects, events, lectures and exhibitions like "20 designers at Biologiska" and "Design Walk"; and of course they have their own production ranges of furniture, working with galleries in New York, Milan and Tokyo.
***