Working closely with a French supplier of vintage fashion advertising, 2007-2010 Chelsea College of Art and Design graduate Rosemary Cronin elegantly defaces her rare canvas, creating an intrigue that heightens the seduction of the image. In one hand celebrating the allure of the fashion industry, and vandalising its statement of intent with the other, Cronin's work is brimming with social commentary, aesthetic beauty and intelligence.
Karen Shidlo of new Shoreditch-based gallery Jester Jacques Gallery caught up with Rosemary for us, to chat about her work, inspirations and future plans…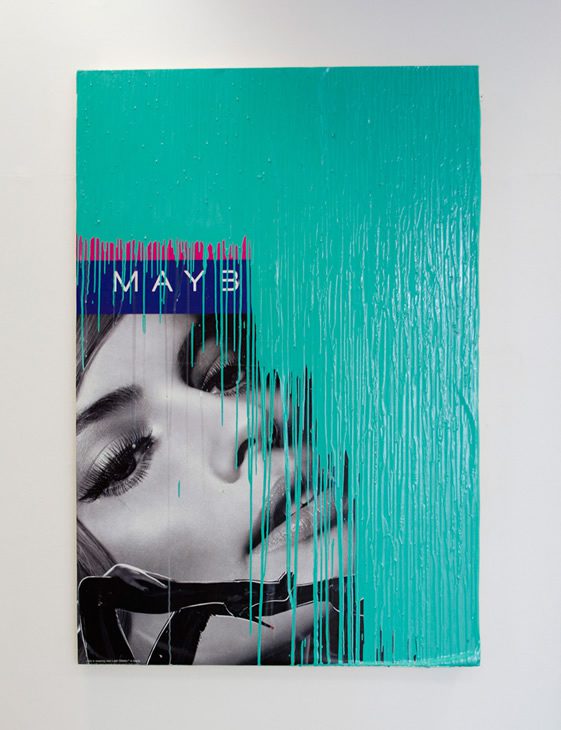 Give us a bit of personal history – how did you find yourself painting and pursuing it as a career?
As an early teen, I suffered from a couple of traumatic incidents and art instantly became therapeutic and cathartic for me. I am from the lovely, grey suburb of Watford and I think it is just so miserable and deadbeat that a lot of young people thrive on creativity as a means of escapism. I was definitely one of them!
Which artists do you look at, both old and contemporary?
I think I surprise people when I say Alina Szapocznikow who is an amazing artist who not many people have heard of, and I saw her work in a show with Lynda Benglis and Louise Burgeois. I was hypnotized by her work; she has a strong, kindred connection with the body and using splices of it in sculptures, which is similar to what I focus on in my painting.
As for contemporary artists, I look at Fiona Rae as I admire her playfulness and the work of Camille Rose Garcias. And I do love Pop Art.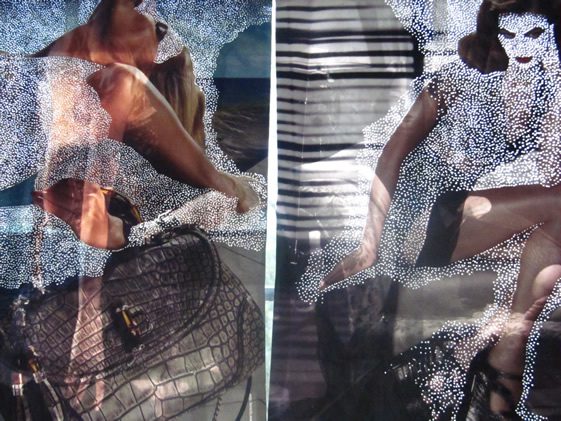 How has fashion influenced your artwork and do you follow current fashion trends?
Fashion hugely influences me, although I think it's more in my subconscious when I am actually painting. It's only when I step back and look at my work that I recognize the fashion trends there. I carry the essence of trends and translate them in my paintings. I also read fashion magazines, but I consume them as a whole; I don't actively look for images. And when I am out, things such as a bottle of nail polish in a beautiful color catch my eye, so I am equally inspired by my surroundings.
A fellow artist once said about my work that it captures the seduction of magazines, because of the rich, glossy paint I use, but that it has a bite to it and I think that sums up my artistic relationship to fashion.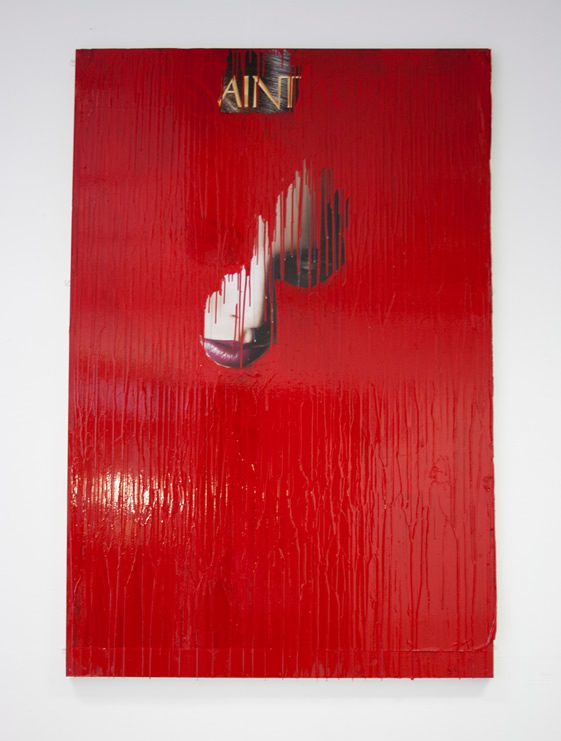 What is the appeal of using posters – both old and contemporary – as foundations for paintings as opposed to the traditional blank canvas?
This is very bad…I stole a poster just because I both loved it and, in some ways, hated it. I took it back to my studio – this is when I was still in Chelsea, about 4 months before the degree show – and it was the start of getting into the work I make now. It was a Maybelline advert and I started working with it, using paint to delete parts of the imagery I didn't like. I altered the text so that "Maybelline" became "Maybe," which summed up my initial ambivalence to the image.
Using posters allows me to subvert aspects of an advertisement, allowing me to decide what is relevant and significant using paint as a tool to block an existing image. Through the subversion of the initial image, I offer the viewer an alternative reading, whilst also projecting my own personal standpoint and stance of the advertisement.
How does the scale of your works tie in to the meaning and intention of your paintings?
I think adverts are imposed upon us in the street, so by me keeping their scale as a recognizable clue for the viewer, it means I can subvert the attention a lot better. There is also a quality to the scale of the posters that appeals to me aesthetically. I like the impact one of my paintings can make on its own, as well as when they are all hung together.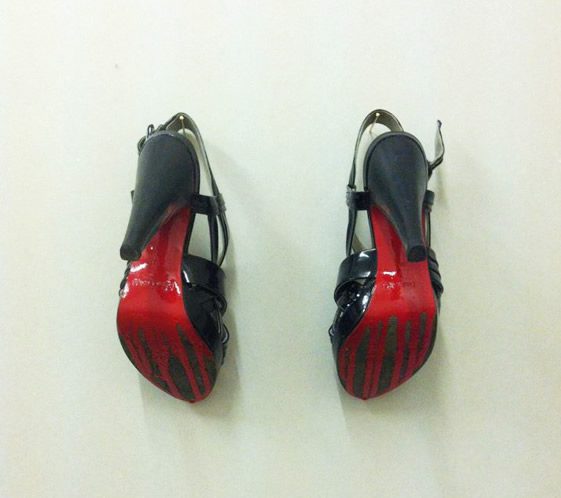 We saw your shoes at your studio. They are marvelous! Do you intend to branch out to different mediums or was that a one off?
The shoes were really fun to explore, as it really hones in on my interest in where art and fashion meet. Vivienne Westwood is a huge inspiration because she encapsulates art, design and even politics in her work; she is a genius.
I would love to explore different mediums. Seeing the Louboutin show recently gave me so many ideas for sculptural pieces.
Lastly, what is next for you?
My works 'Furies" will be launched by VV Brown in a fashion setting; they will be showcased around the time of Fashion Week and the Frieze Fair. In the meantime, I am painting and experimenting with a wider variety of mediums. I also hold positions in the V&A, The Modern and Tate Britain.
What I am most looking forward to though, is working with Jester Jacques Gallery!