Well considered, stylishly turned out and frightfully hip hostels are certainly a phenomena on the rise; whether it's recession-led, or the realisation from creatively minded travellers that your accommodation's overall vibe and aesthetic is more important than the bedroom (that your typical bon viveur spends very little time in), these innovative, easy on the wallet lodgings are cropping up in many of the world's major cities. Enter; Reykjavík, and a group of friends with a determined vision.
On the search for a scene location for his film Black's Game, Icelandic director Oskar Thor Axelsson took friends Kristinn Vilbergsson and Dagur Sigurdsson to scout an abandoned biscuit factory… seduced by the building, Vilbergsson and Sigurdsson had ideas beyond their friend's film, the pair imagined a place where they'd like to hang out; a club, a bar, they didn't mind, so long as they could capture the atmosphere that had allured them. With only around 320,000 citizens, everyone seems to know everyone in Iceland – and, soon enough, the project was on the move, with the help of friend Petur Marteinsson and some locally-born footballers (Chelsea and Barcelona striker Eidur Gudjohnsen amongst them).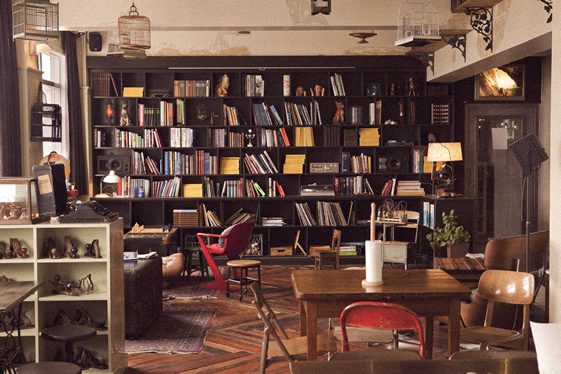 Not content with stealing their friend's movie location, the group enlisted his set designer Halfdan Pedersen to realise their vision, on what was now to be a hostel with a twist. Vintage record sleeves, barbershops and Paul Smith adverts were thrown onto mood-boards, whilst the designer scoured the globe for diverse furniture, props and oddities… reclaimed wood, and even leather, was used where possible, and nothing was spared in attention to detail (paper stocks were carefully chosen for receipts and correspondance, brand names removed from beer pumps and staff instructed to use only pencils); the guys had a vision, and boy were they going to stick to it.
With their commitment to this unwavering vision, Kex Hostel (along with its bar, restaurant, gym and barbershop) has found itself just the sort of place its owners – and now many others from around the world – crave to spend time in; and with local, internationally renowned, bands Sigur Rós and GusGus hosting events there, they've succeeded in reviving a run-down industrial area of the Icelandic capital. Brimming with soul, washed with authentic retro, and capturing the sort of cool that many a 5-star hotel chain would give their right arm for; Kex is triumphant in proving that amenities, thread count and curated mini-bars aren't nearly as important as atmosphere and an abundance of style.