On the hunt for a certified dime or successful gentleman to call you own? Has the luxury dating scene piqued your interest? Want to hook up with some of the hottest singles out there?
If so, then you've probably heard of Seeking.com.
It is, after all, one of the most popular adult dating sites around, especially among attractive and successful singles in search of short, mid, and long-term fun.
But is Seeking Arrangements legit? Does it work? Can it help you find local singles and hookups?
To answer these questions, I did a deep dive into the popular dating site, and in the process, put together the most comprehensive Seeking review out there – one that details everything the site has to offer, how to use it, and much more.
Ready? Let's get started.
First Thoughts About Seeking
Pros
– 40 million active members
– Highly detailed search tool
– ID and photo verification available
– Many accounts have verified photos
– Use video chat and messaging features
– Face-hiding tools
Cons
– Expensive subscription plan
– Users must pay for background checks
Overall Score
– Quality of Matches: 4.8/5
– Usability: 4.4/5
– Special Features: 4.9/5
– Affordability: 3.1/5
– Safety: 4.6/5
Seeking Review – My Seeking Arrangements Experience
Seeking.com Overview and History
Launched in 2006 under the name SeekingArrangements, Seeking.com initially catered to sugar daddy and hypergamy relationships.
Today, however, Seeking Arrangements is a luxury dating site designed for successful and attractive singles – providing them with a place to find no-strings-attached hookups, casual flings, and something serious.
Is Seeking Arrangements popular?
Yes, very much so. In fact, the site is home to some 40 million members across 130+ countries (nearly half of which are located within the US).
Who is Seeking.com For?
Seeking Arrangements is primarily used by singles between the ages of 18 and 40 looking to meet someone for a night, a weekend, or several years.
Unlike standard dating sites, Seeking Arrangements is strongly focused on the 'Elite' angle, and no matter where you're accessing the site from, there's no shortage of highly-attractive and well-off members to choose from.
While it may not be everyone's cup of tea, SeekingArrangements is also frequented by classy cougars looking for some young blood to pump some passion back into their life (this is especially true in larger cities like New York, LA, and Miami).
Although SeekingArrangements has unequivocally distanced itself from the SD scene, it's still fairly popular among singles in search of genuine hypergamy relationships.
Signing Up with Seeking Arrangements
Sporting a simple and streamlined sign-up process, Seeking Arrangements makes it easy to open an account and doesn't subject members to 80-plus question 'personality quizzes' like some dating sites do (a fact I was very grateful for).
That said, the site does ask what gender you identify as, what you're looking for (men, women, or both), and whether you consider yourself a Successful or Attractive single.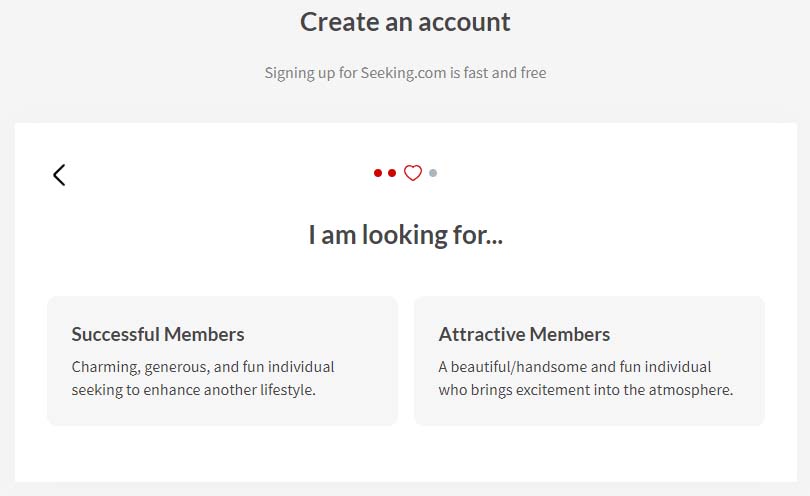 Once you make your selection, you can sign-up using an email address or skip the hassle and log-in directly with your Facebook account.
While I chose to use my email address for privacy reasons, logging in via Facebook will automatically upload your photos, which believe me, saves a lot of time.
No matter which option you opt for, Seeking Arrangements will still ask for your education level, current relationship status, and your smoke/drinking habits.
I recommend answering these questions truthfully as your answers will influence who appears at the top of your search results.
By the way…
If you're currently in a relationship and just want a bit of side action, don't hesitate to say so as there's no shortage of members interested in this type of arrangement.
The final step of the process depends on which option you picked at the start. If you chose 'Successful Single', you'll be asked to state your net worth and annual income.
If you selected 'Attractive Single' you'll be ushered along to the final stage of the profile creation process – choosing tags that most closely define what you're looking for (popular options include 'Passport Ready', 'Discretion', 'Luxury Lifestyle', and 'Mentorship').
Finding Matches on Seeking.com
Each time you log into your SeekingArrangements account, you'll be presented with an entire page of potential matches in your area.
These results can be narrowed down using an impressively large number of search criteria and filter options, including age, body type, and relationship status.
You can even limit your results to users who've undergone the ID verification or a background check process (more on this later).
If you're looking for something specific, you can also search through members based on what tags they've added to their profile, with options like 'Passport Ready', 'Something Discreet', and 'Mentor' being highly-popular.
For even more specificity, you can search for words, tags, and phrases that aren't found in the list of options. For example, in hopes of finding someone interested in a weekend getaway, I typed 'Travel' into the search feature.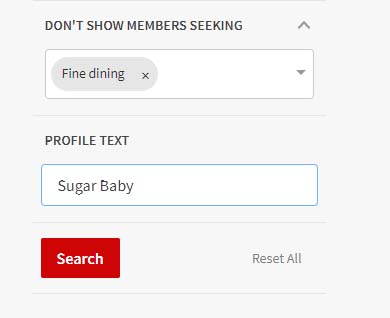 Instantly, I was presented with hundreds of users who included the term 'Travel' in their bio/profile. I tried this with other terms like 'Classy', 'Aries', and 'Open to Anything' and was once again impressed by the number of results.
Whether you fit into the category of Attractive or Successfull, I strongly recommend including some personalized keywords in your profile.
Not only will this tell people exactly what you're after, but it'll make it that much easier for potential matches to find you!
All-in-all, I was pleasantly surprised by the number of filter and search options available on
Seeking Arrangements – which trust me – is significantly more than you'll find at other high-class dating sites like Secret Benefits and Elite Singles.
Special Features
SeekingArrangements is far from your run-of-the-mill dating site and the platform is packed with several impressive features, the most important being…
Public and Private Photo Albums
A feature that's becoming more and more popular in the online dating scene, Seeking Arrangements supports both public and private photo albums.
As you've probably guessed, public photos can be viewed by anyone with an account while private albums require special permission to access.
While anyone can request access to a private album, most Attractive members keep their private photo collection off-limits to everyone except those they're truly interested in..
And yes, these private photos can be 18+ in nature, although this isn't always the case. In fact, private albums are routinely used by members who prefer to keep their identity hidden.
How exactly?
Some members only upload body shots or photos with their face blurred out to their public album, keeping everything above the neckline hidden in their private album.
ID Verification
One of the site's main selling points, Seeking Arrangements gives members the option to verify their identity directly through its website.
Wanting to appear more trustworthy, I decided to go through with the process and was asked to submit a copy (front and back) of my drivers license and pay a $4.99 fee.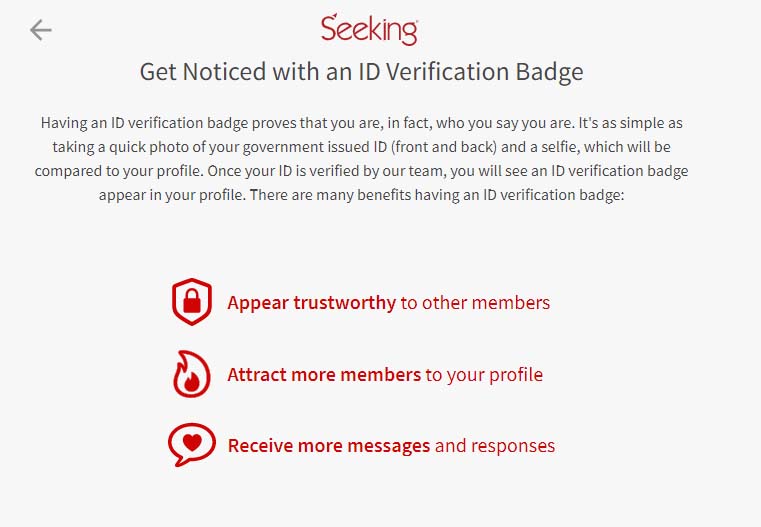 While the verification process did take a day or two, once done, I was awarded a neat 'Verified' badge, which let me tell you, greatly increased my engagement.
Better yet, you don't have to be a premium member to verify your ID and everyone – even free accounts – can undergo the process.
Why bother getting ID verified?
No matter how good looking you are, the upper echelon of users (both in the looks and finances department) limit their search results to 'ID Verified' members as a way of protecting themselves against fake profiles and scammers.
What's more, verified members appear higher in search results, making your profile more visible and giving you more attention.
If you read through Seeking reviews on Reddit and other online forums, this ID verification process is highly appreciated and a big reason why Seeking Arrangements is one of – if not the – premier elite dating sites.
Background Checks
For the ultimate level of trustworthiness, Seeking Arrangements lets users undergo a criminal background check through a licensed third party. Although the process cost me $50, I once again decided it was in my best interest and went through with it.
Boy did it pay off…
I wouldn't have known otherwise, but some users (mostly the 8/10 and above users) hide their profiles entirely from users who haven't undergone the background check process – and for good reason…
You never know who you're talking to online.
If someone is willing to fly halfway across the country for a short straycation or weekend get-a-way, a verified background check can add some peace of mind to the process.
Don't believe me? Once again, I implore you to go to r/OnlineDating and similar online communities and read through some Seeking reviews. If you do, you'll find several Seeking reviews corroborating exactly what I laid out above.
After all, this background check feature isn't something offered by most luxury dating sites and is no doubt one of Seeking Arrangements main selling points.
That said…
Don't let me give you the wrong idea. Having the Background Check badge isn't the end-all-be-all, and if you decide to forgo the process, you'll still be able to hit up thousands of profiles.
Like the ID verification process, you don't have to be a premium member to gain the Background Check badge.
Video Chat Feature
If you find a real connection brewing and want to move beyond the world of text and into something more intimate, Seeking Arrangements supports a handy video chat feature.
Unfortunately, free accounts don't get access to this feature, and to open a video chat or send fun video messages, you'll need to purchase a Premium or Diamond account.
Photo Verification
If you decide against a background check or ID verification, I highly recommend getting your photos verified.
Unlike Background or ID verification, the photo verification process is free, and once complete, will make your profile significantly more attractive to other members.
You can also add social media verification to your profile, giving you the option of linking your Instagram, Facebook, or LinkedIn. Once done, your profile will be given the corresponding badge.
If you're worried about privacy – don't be.
Linking your Facebook, Instagram, or LinkedIn doesn't give members access to your accounts (all they'll see is the badge). You're free to link your IG or Facebook in a private chat, however.
Go straight to Seeking by clicking here
URSAFE Membership
All paid memberships come with a 6-month free trial of URSAFE – a personal safety app that female members may find worthwhile.
Essentially, this app lets friends or family track your movements while you're on a date. It even has a built-in SOS feature, which when activated, dials 9/11 and sends your location to the appropriate authorities.
While I wasn't particularly interested in this feature, some people may appreciate the add on. If you're worried about your safety while using Seeking Arrangements, I recommend sticking to verified profiles.
Privacy Tools
Interested in joining the luxury dating scene but don't want your face out there for all to see? If so, know that Seeking Arrangements lets users blur out their face in all photos they upload.
They also have fun mask filters that accomplish the same effect.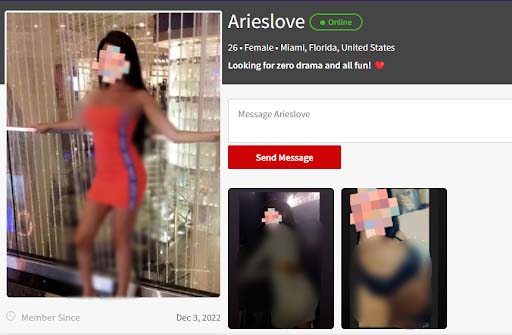 Why not just use a private photo album?
Well, if you want serious engagement you'll need to outfit your public album with at least a photo or two – especially one showing off your body (if you're playing the Attractive member angle).
At the very least, you'll need a profile picture, as without one, you'll get little-to-no attention (this goes for both Men and Women).
Wishlist and Gifts
What's the best way to get the attention of a 10/10 hottie? By buying her a gift from her wishlist. And no, these aren't the silly internet gifts you'll find on other online dating sites; not even close.
These gifts can be anything from fragrances and lingerie to sex toys and jewelry – all of which can be purchased directly through the Seeking Arrangements website (a feature that most Seeking reviews fail to mention).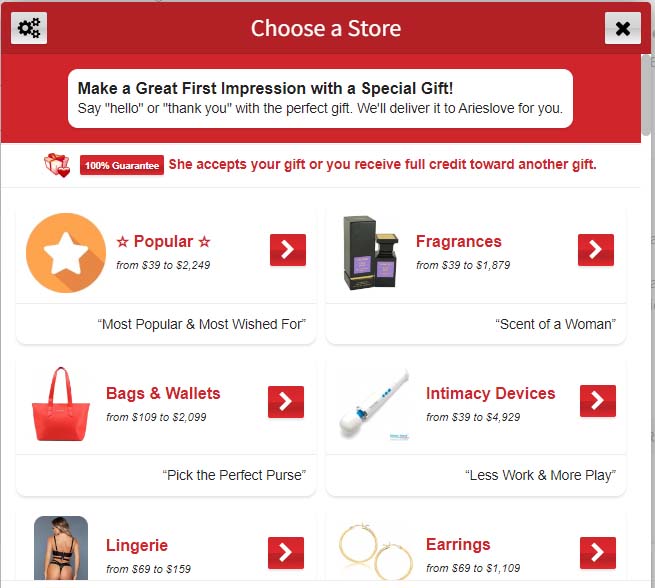 While not all members have Wish Lists, most are open to accepting gifts, and if you don't mind dishing out the extra cash, this is a great way to get noticed.
Worried about buying the wrong size? Don't be.
Once the item is paid for, the receiver will provide all the necessary details, including their mailing address, size, preferred color, and any other relevant info.
If you're a Successful member wanting to be known for their generosity, you can proudly display how much you've spent at the gift shop on your profile (letting all potential matches know you're the real deal).
Vibes
A fairly new feature, Vibes are short videos or photos users can upload for other members to see. Vibes stick around for 24 hours then disappear.
In some ways, Vibes are similar to Instagram or Facebook stories with one major difference – you can't upload a photo you've already taken; you must shoot your Vibe on the spot.
Besides being a fun way to grab attention, Vibe posters appear towards the top of the search results, making them an easy (and free) way to get noticed.
Profile Boost
Looking for even more attention? Profile Boosts will elevate your profile status, making it seen by the most attractive members in your area for 24 hours.
Boosts aren't free of course, and cost between $6.00 and $9.99 each depending on the package you buy.
What Do You Get With A Free Account on Seeking Arrangements?
To my surprise, a free Seeking Arrangements account will let you view all profiles in your area and send 10 free messages. You'll also be able to see who's visited your profile and who's liked you – a luxury you won't get with other legit dating sites.
What's more, free members can buy gifts, create and access private photo albums, and use all the search features (not bad, eh?)
What Do You Get With A Premium Account and What Does It Cost?
To get the most out of Seeking Arrangements, you really need a Premium membership. Not only will it give you access to unlimited messaging, video calls, and more but you'll be able to add several locations to your profile.
While this may not seem like much, it's a big deal if you plan on flying someone in from out of town.
On the flip side, if you're a dime looking for a financially stable man to date, this multiple location feature will greatly increase the number of potential suitors who see your profile.
The site also offers a Diamond account, which along with everything included with a Premium account, gives you increased visibility and priority. You'll appear at the top of all relevant search results, receive profile boosts, and have photos verified much faster.
Oh yeah, a Diamond Account will let women filter men based on how much they earn – which if you read through Seeking reviews – is one of the site's most talked about features.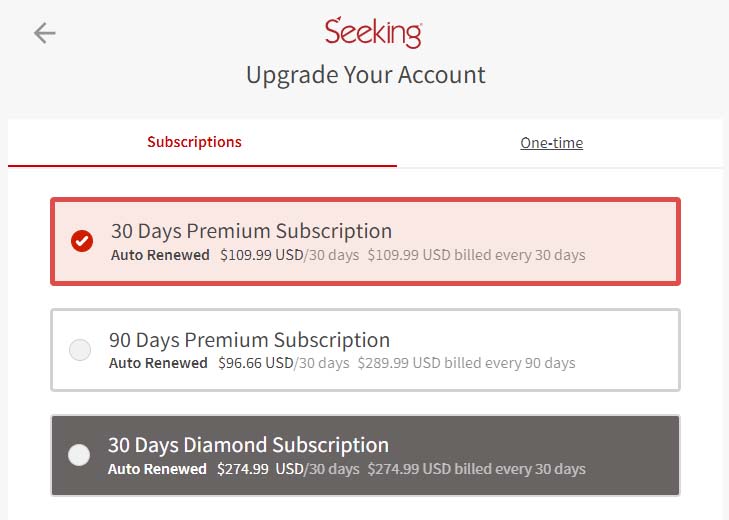 If you just want to try out the site without committing to recurring payments, Seeking Arrangements has a one-time, month-to-month option that's certainly worth checking out.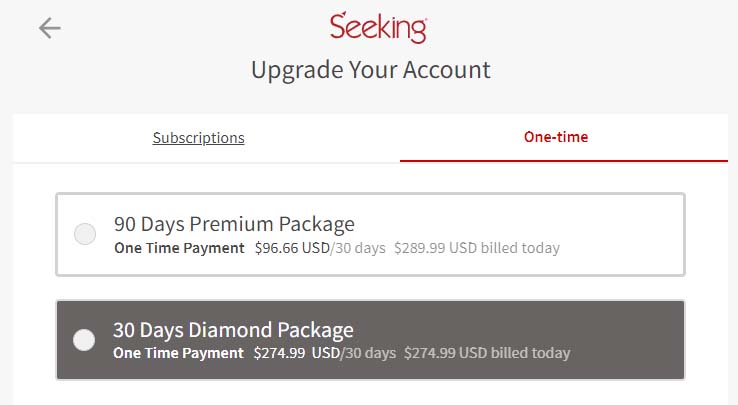 Payment Options
If you opt for a Premium or Diamond account, Seeking Arrangements accepts all major credit cards (Visa, MasterCard, Discover, American Express, and Diners Club).
How Does Seeking Compare To Other Dating Sites?
Want to know how Seeking stacks up to some of its competitors? Luckily, I've done the rounds on all the major hookup and dating sites out there – and for better or worse – have a pretty well-informed opinion on the matter.
Secret Benefits
Seeking.com's main competitor, Secret Benefits is another well-known elite dating site with millions of active users.
While the platform has nowhere near the amount of features and tools available, it uses a credit-based system, making it significantly more affordable.
RELATED READING: Best escort sites
Adult Friend Finder
The internet's oldest hookup site, Adult Friend Finder caters to just about every kink, penchant, and perversion you can think of, and while it's not designed for luxury or elite dating, it's a great place to find a quick hookup or FWB.
Ashley Madison
Running with the motto 'Life Is Short, Have An Affair', Ashley Madison is all about discreet side action and extra-marital flings.
That said, there are a fair number of attractive young ladies looking for an established man to call their own. You'll also find tons of attention-starved housewives looking for a bit of secret fun.
The site is also home to some low-key P4P action, which some people may be interested in.
RELATED READING: Best OnlyFans girls
Seeking Reviews: Is Seeking Arrangements Worth It?
While it may be more expensive than other options out there, Seeking Arrangements is hands-down the best luxury dating site out there, and if you're after a certified dime or successful man, is the place to be.
Not only does it offer tons of features and a level of identity verification you won't find elsewhere, but the quality of the members is truly the cream-of-the-drop.
Head on over to Seeking right away
Bottom line: If you're serious about breaking into the adult or elite dating scene, it doesn't get much better than Seeking Arrangements.
RELATED READING: Best hookup sites