How to get to Cancun and the Riviera Maya?
Although it is also accessible to travel by car from other cities that are nearby, flying is the most popular method of transportation to the Riviera Maya and Cancun. Especially for those traveling from far away distances. The most significant airport in the Riviera Maya and one of the busiest in all of Mexico is Cancun Airport.
Since flying to Cancun is the most convenient way to arrive at many close-by destinations, In the Riviera Maya, many airlines provide nonstop flights. Cities like Madrid, London, Brussels, Paris, Amsterdam, and Zurich are the ones with more direct flights to Cancun. In addition, airlines in the US and Canada are continuously reopening and opening more direct flights to Cancun.
Cancun International Airport, as we mentioned, is the main gateway to the Riviera Maya by being only 15 kilometers from Cancun.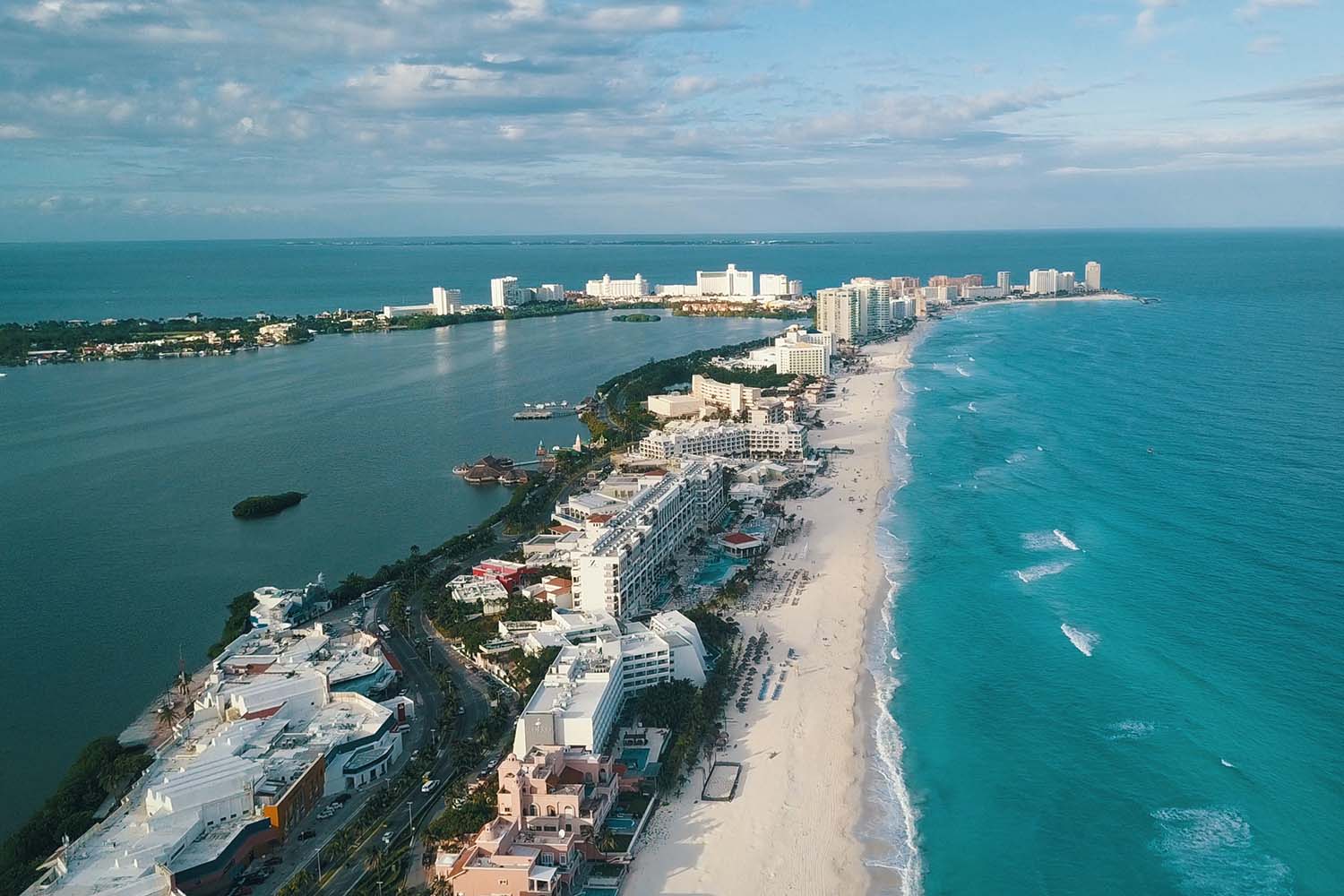 Transportation from Cancun Airport
The most convenient way to get from Cancun International Airport to the hotel is to book your private Cancun Airport Transportation. This is a door-to-door service, so you will arrive as fast as possible and without detours to your destination.
Here are other transportation methods you can use:
Bus
Buses offer an economical alternative, although they are not the fastest or the most comfortable, since once you arrive at the station you will have to figure out how to get to your hotel and continue carrying your luggage.
ADO buses run between the airport and downtown Cancun, Puerto Morelos, Playa del Carmen, Merida, and Tulum.
The general price for a trip to Downtown Cancun costs $94 MXN, from the Airport to Playa del Carmen it would be $225 MXN and if you go to Tulum the price would increase to $340 MXN.
*Regular buses or public transportation are a great option to explore the city and the hotel zone in Cancun for a cheap price.
Taxi
When you first arrive at the Cancun Airport, taxis are much more expensive, and not always reliable. That's why we recommend private transportation when you land. On the other hand, taxis are a good option for you when exploring the city.
Taxis in Riviera Maya are not metered, so if you choose this option, it is important that you negotiate the price before getting into the car to avoid last-minute surprises or scams.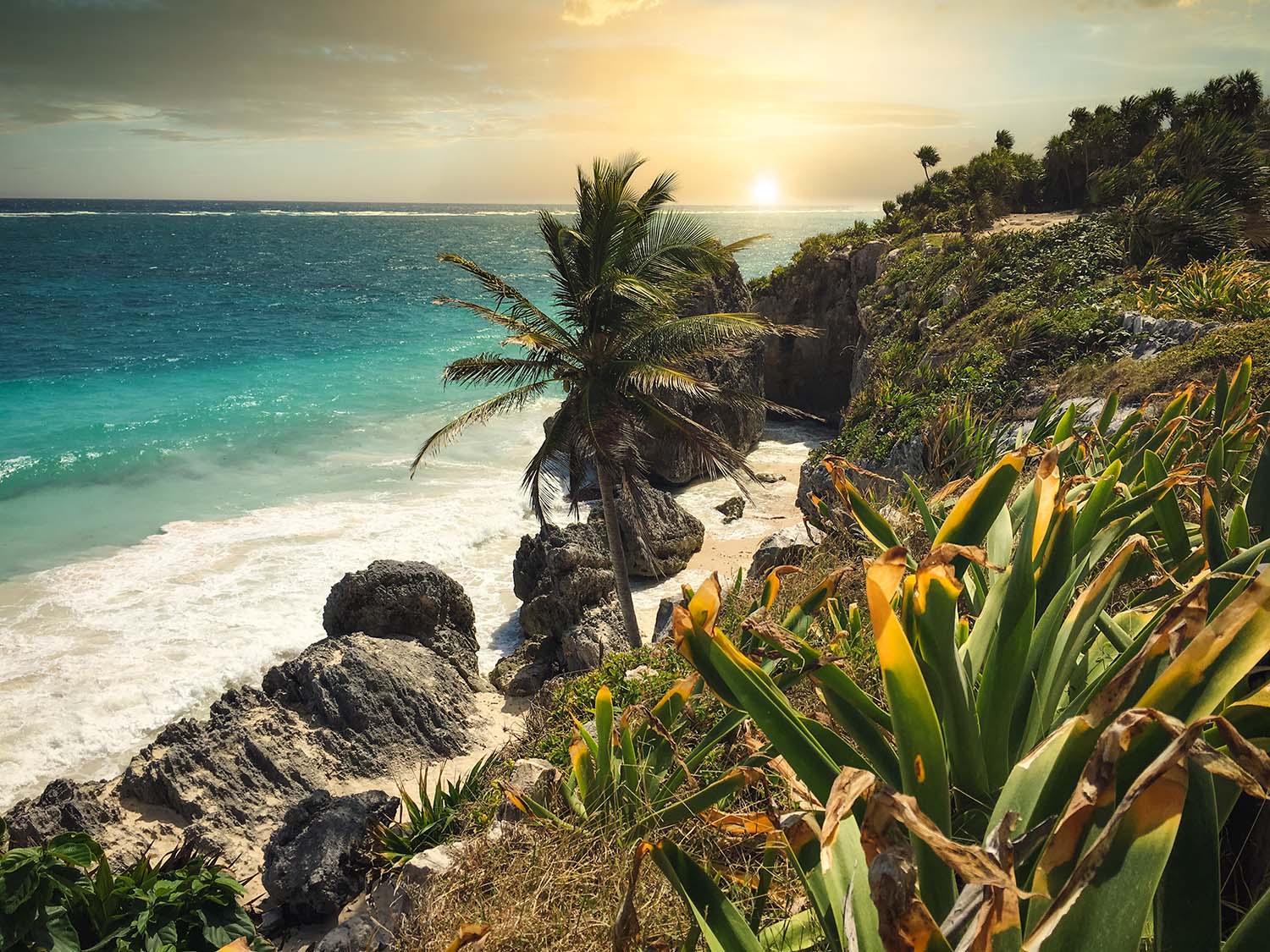 About the Cancun International Airport
With more than 25 million passengers per year, Cancun International Airport is the second busiest airport in the country, just behind Mexico's International Airport, although it is the most important airport for international tourism.
In terms of figures, Mexico reported an increase in its foreign tourism earnings of 9.3% when compared to levels prior to the pandemic, bringing in 13.039 billion dollars during the first half of the year, down from 13.57 billion dollars during the same period.
The Ministry of Tourism (Sectur) increased its predictions for this year as a result of the outcomes of this indicator thus far this year, with Mexico expected to reach 26,121 billion dollars, which would be 6.3% more than in 2019.
By keeping flights going, the federal government was able to achieve its goal of increasing tourism in Mexico. According to information from the Ministry of Tourism, tourism income growth was reported to be 9.3%.
According to Inegi figures, the country brought in 2.2 billion dollars in June alone, a 21.2% increase over the previous year.
The National Institute of Statistics and Geography, Inegi, is an autonomous government body in Mexico tasked with overseeing the nation's National System of Statistical and Geographical Information. According to their data, the nation received 5 million 515 thousand 782 visitors in June 2022. 3 million 363 thousand 239 of those were foreign visitors.
Facts about Cancun
On the other hand, Tripadvisor made other lists regarding specific types of destinations. For example, for Most Popular Destinations in the World in 2022, Cancun is listed #3! Just behind Dubai, United Arab Emirates, and London, United Kindom. It's still amazing how, according to Tripsavidsor's popularity, Cancun managed to go past Bali and Crete.
Facts about Riviera Maya
According to Wikipedia, the Riviera Maya was originally called the "Cancun–Tulum corridor", but in 1999 it was renamed the Riviera Maya with the aid of Miguel Ramón Martín Azueta. At the time, he was the municipal president of Solidaridad, Quintana Roo.
The Riviera Maya includes the municipalities of Solidaridad in the north and Tulum in the south, and extends approximately 40 km (25 mi) inland, to the border with the state of Yucatán.
Paradise on Earth
What has made Cancun and the Riviera Maya so famous and exceedingly desirable? Well, it was only 50 years ago that Cancun was only a fisherman's city, and the Riviera Maya was barely explored.
Everyone is amazed by how quickly these destinations emerge to be on top of the world's best destinations.
The secret behind the preservation and popularity is nature itself. Tourism has been built to praise their surroundings, giving visitors a unique experience connecting with nature. This is shown through the beaches, cenotes, natural reserves; all flora and fauna.
The Riviera Maya holds amazing hidden treasures, from Akumal to Tulum, and many towns and beaches in between.