Witchcraft. The Library of Esoterica takes the reader on a fascinating journey through the history of witchcraft, from its ancient roots to modern incarnation. The beautiful 520 page TASCHEN-published hardback comes complete with captivating essays and more than 400 artworks, making it a must-have for anybody with an interest in all things esoteric.
The third publication in the publisher's 'The Library of Esoterica' volume, Witchcraft strikes a nice balance between text and imagery, the essays and interviews with modern practitioners both informative and enjoyable, chronicling everything from the craft's emergence in ancient goddess worship to the embrace by today's diverse witch community.
From 'Initiation' to 'Invocation', to 'Casting the Circle' and beyond, each chapter is lengthy and spellbinding (excuse the pun), casting a variety of traditions and rituals over the reader; inspiring them to seek out knowledge and study the teachings of scholars who've dedicated themselves to this development, as well as to consider the preservation of ancient arts.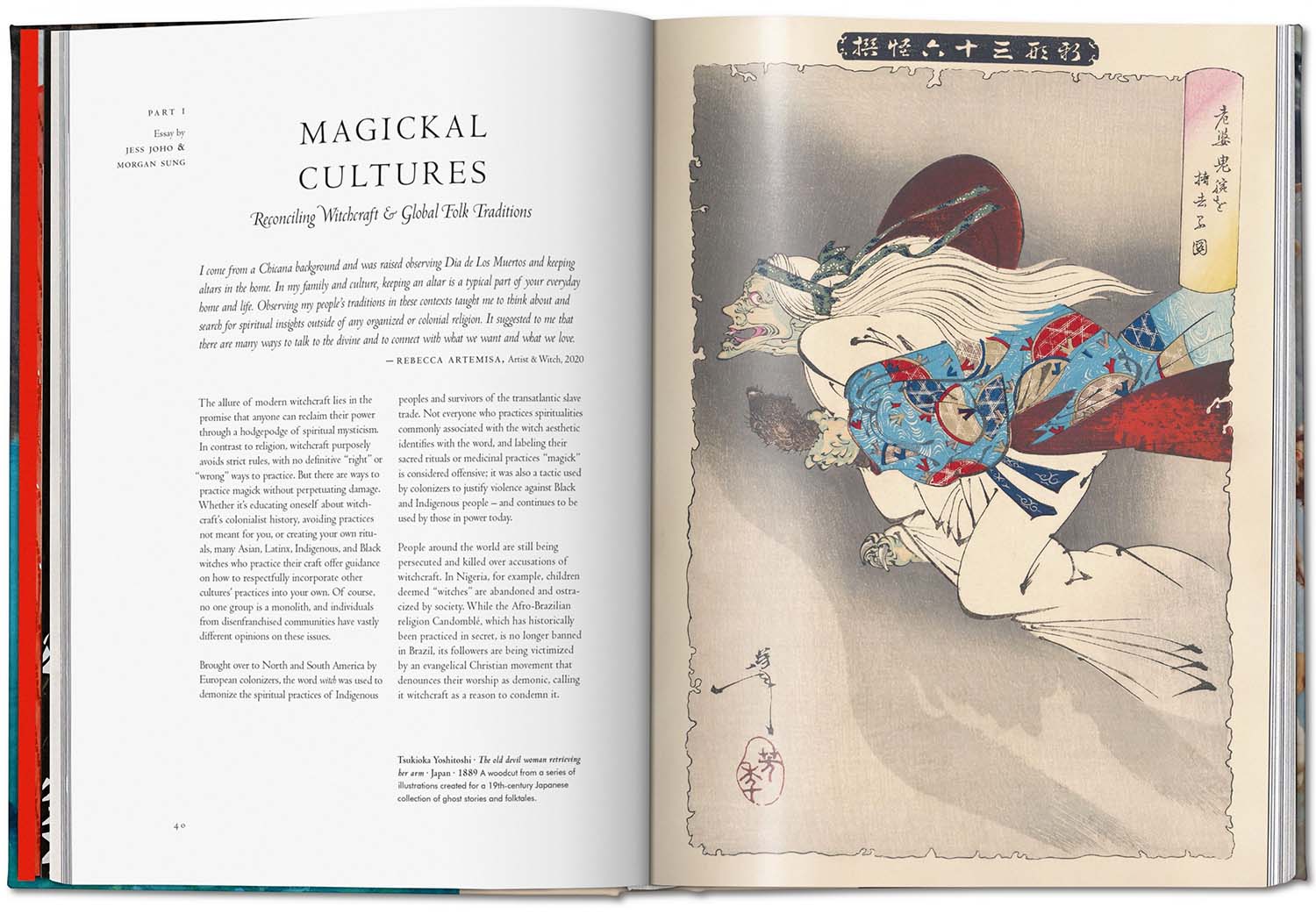 As Paola Hivelin and Sophie Rokh, co-founders of the Gang of Witches, point out: "We are going through a crisis of unprecedented proportions in today's toxic system. Witchcraft can provide us with valuable guidance to help us co-create a new, more egalitarian and sustainable paradigm. The image of the witch——learned, independent, and powerful, often feared, sometimes mocked, always shrouded in mystery, and master of her identity——is a marker of the place of women in society and the issues of each era."
With The Library of Esoterica aimed at emboldening the reader to begin their own journey into the dark halls of the arcane, this is the time to explore sacred rituals and philosophies, whilst embracing this part of ourselves that, perhaps until now, has remained untapped. As much a document of feminism and of powerful women as sorcery and spells, this tome is an inspiration for women who want to express their singularity. As Yoko Ono wrote for the album A Story in 1974: "Yes I'm a Witch, I'm a bitch, I don't care what you say, My voice is real."
Embrace individualism and celebrate your inner strength. After all, there's a little witchery in each of us. Witchcraft. The Library of Esoterica by Jessica Hundley and Thunderwing is published by TASCHEN, priced £30.