The bewitching Balearic Island of Mallorca is as evocative as Mediterranean destinations come—rightly renowned for its blissful beaches, limestone mountains, stone-built villages and tapas and wine scene. An all-year round destination with infinite amounts to offer its visitors, for one night only, the magic of Mallorca is set to be recreated under the grey skies of the City of London.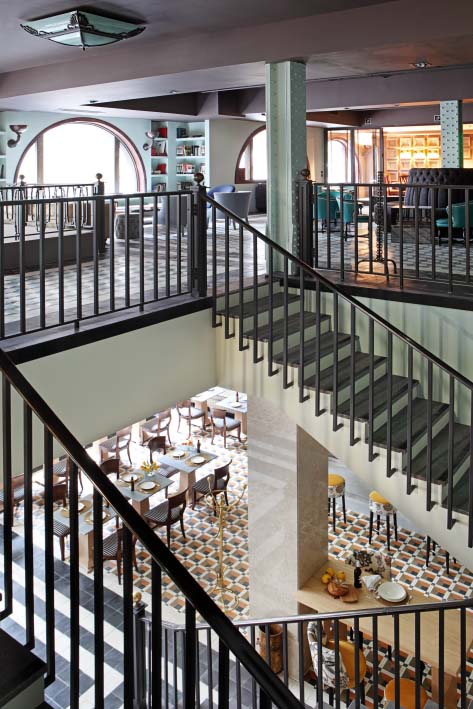 Mallorca Inspires London is a one-off free event arranged by the Mallorca Tourism Board at London's revered Spanish restaurant, Hispania; a window opened on the seasonal essence of this alluring island through gastronomic interventions, a multi-sensory experience, and insider knowledge.
Located within the iconic inside-out Lloyds Bank building on Lombard Street, the event will connect you to Mallorcan culture through a culinary journey of traditional tapas interpreted by Michelin-starred chef Marcos Mora; local wine; cookery demos from island native, Masterchef Spain winner-turned-acclaimed-caterer, Vicky Pulgarín; and input from co-host Rachel McCormack—a regular panelist of BBC Radio 4's The Kitchen Cabinet, and somewhat of an expert on all things Spanish cuisine.
Step inside Hispania's flagship Spanish restaurant, where edible pine bubbles and the taste of salty sea air will engulf you, as romantic lighting and emotive scents will transport you momentarily to balmy Mediterranean evenings where dining alfresco in November is a welcome respite following the long, hot nights of the summer. Set over more than 9,000 square feet, with interiors by Lorenzo Castillo that epitomise the spirit of contemporary Spain, this unforgettable evening is guaranteed to awaken a yearning to visit Mallorca; leaving guests imbibed with the essence of this irresistible island.
Tickets are capped a maximum of six per-booking, due to the limited numbers on offer, and pre-booking via eventbrite.co.uk is essential. As well as a goody bag filled with regional fare, there are three weekend trips to Mallorca ready to be won; and for those who buy a copy of Anna Nicholas's book, The Devil's Horn, the Mallorca-based British writer will be on-hand to sign her fictional debut set on the island.
A truly unforgettable experience where the magic of Mallorca will come alive in the heart of London, Mallorca Inspires London by Mallorca Tourism Board takes place Monday 4 November, 16:00—21:00 at Hispania, 72-74 Lombard Street.
Instagram: @MallorcaTourism
Twitter: @MallorcaTourism