The star of esteemed chef Ryan Butler (formally of Gramercy Park Hotel, Tocqueville, Django Restaurant and more) continues to shine, as his Williamsburg bakeshop and espresso bar goes from strength to strength; his Butler brand having announced an expansion out west to the increasingly hip Dumbo.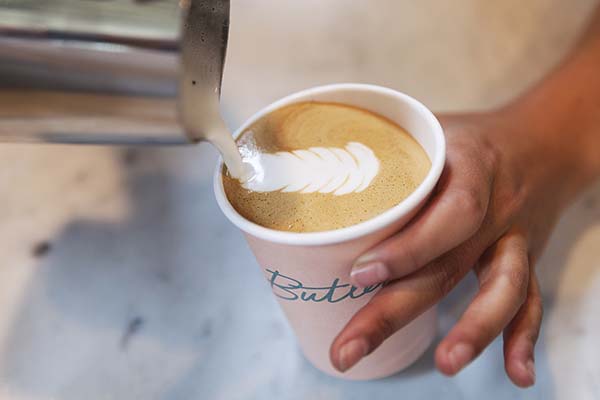 Back in the home of Brooklyn hip, however, where Ryan leads his Williamsburg kitchen team, devising a concept that "takes the techniques of the fine dining world and translates it into casual mise en place sweet and savoury café fare." Known for his signature approach to pastry, whereby he combines classic and modern techniques influenced by seasonal and savoury ingredients, visitors of Butler can enjoy healthy breakfasts—think granola parfait, summer berries on toast; and super food balls—delicious salads and sandwiches that make use of the freshest produce during lunchtime, and any number of sweet treats to top it all off; the chocolate muffin with banana cream and caramelia cookie with chocolate and sea salt causing serious drool.
Located in a fine-looking space that has all the Brooklyn hallmarks you might expect, Butler—set over 750 sq ft—seats 26 in an industrial setting, with exposed concrete walls, wrap-around leather banquettes, brass table tops and custom lighting lending it that pleasingly gritty feel. Herringbone tiles line two Carrara marble-wrapped counters, and here's a tip: don't leave without a visit to the bathroom where Hygge & West's signature Ebony Pineapple wallpaper complements a cast iron farmhouse sink, making it one of the prettiest places you might spend a penny in some time.