Following the roaring success of the first restaurant in Soho, modern Athenian restaurant Suvlaki has headed — like so many do — out east; opening up its second premises on London's Brick Lane.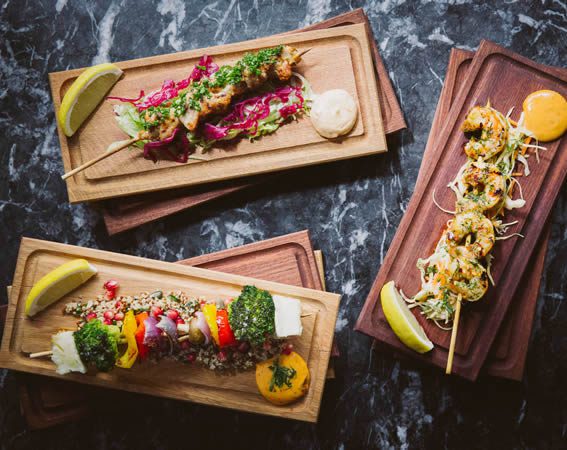 Founded by Irene Margariti, Yannis Theodorakakos, and executive chef Elias Mamalakis — with the concept of bringing fresh, healthy, and responsibly-sourced Greek cuisine to the UK's capital — diners can devour authentic snacks and sharing plates (alongside the revered eponymous signature dish). Think ingredients like corn fed chicken; Mount Olympus wild boar sausage; aged Scottish Texel lamb; and spicy prawn for seafood lovers fresh off robata and josper grills.
As with the Soho restaurant, interiors have been designed by London-based Greek designer Afroditi Krassa, who looked to the architecture of modern and neoclassic Athens to create a space with textured and pared-back aesthetics featuring warm, earthy tones of blue; vintage wooden seating; distressed blue marble tabletops; and restored mosaic flooring. A punky edge to the space follows the team out east, looking all the more at home in Shoreditch.
A second dining room tucked at the back of the Brick Lane restaurant enables guests to watch the food being prepared from a reclaimed church bench for six; a reverential experience indeed.