Genovese Argentinian Canteen (yes, that is now a thing) Quilombero has flung open its doors at East India Dock's Republic; a new Docklands creative/tech urban campus project that promises a whopping 600,000 sq ft of what they call 'truly affordable workplace'.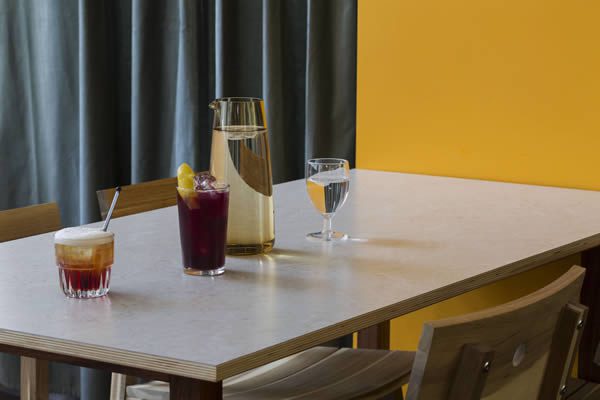 The new restaurant is a temporary project by Missy Flynn and Gabriel Pryce of Rita's (which bid farewell this July after three years in Hackney), and arrives with a colourful and vibrant update on the sort of pre-gentrification Formica-tabled greasy spoons old Londoners will know well.
Meaning 'rowdy' in the Lunfardo dialect — a result of Genovese migration from Italy to Argentina in the 1800s — the team are promising to have a little undisciplined fun with the project (an on-site off license promises negronis-to-go via Quilombero-branded bottled cocktails); its menu fresh with Latin American and Italian influences. Hell, they're even bringing cappuccino back.
The space on Republic's ground floor canteen features communal dining, private tables and a cute cocktail bar, amidst a retro palette of yellows, golds and soft pinks. Looking out onto the East India Dock canal, Quilombero serves to meet culinary needs from breakfast through dinner — although, without a doubt, the star of this show will be the slabs of meat and ribs that Pryce and his diners will be revelling in from 5pm onwards.
Quilombero is slated to stay open till next spring, longer if you're lucky.