What if you could see the invisible? In 1989, the Guinness Book of Records gave Pluckley, Kent, the title of Britain's most haunted village; mulling over ways to capture the spirits, documentary photographer Edward Thompson came across writings that suggested ghosts could be caught on camera using infrared film. That was 2010, and the bond that Thompson forged with the planet's rarest photographic film since has now been captured in an intriguing 266-page publication.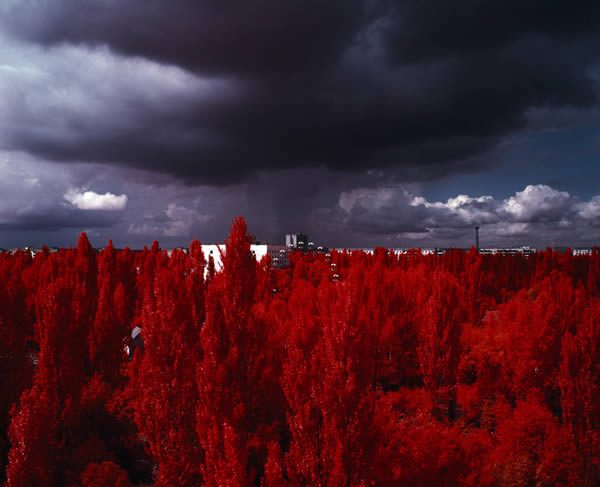 The British photographer's documenting of Pluckley's storied spirituality would form the 2011 series The Village — shot using six rolls of medium format Kodak Aerochrome film — but it was the ensuing curiosity of the film's origins that has seen Thompson travel the world to look at a series of scenes and situations through a very different lens.
One of the original purposes of infrared photography was to document crops post-flood from the air; in After the Flood, after the Red River Valley (2012), Edward Thompson turns that on its head, getting on the ground and capturing the everyday lives of the people directly effected. Having covered environmental issues throughout his respected career, Thompson shot the world's most radioactive forest in The Red Forest (2012), and London — as one of the planet's most polluted cities — in The City (2014); capturing nature's threatened wonder in Hellir (2016)'s images of melting glacial ice caves.
Pushing the boundaries of our understanding of what photography can be, this collection of otherworldly visions of the world we and the invisible unknowns inhabit is a compelling ode to a medium that goes where others simply cannot.
Edward Thompson's The Unseen — An Atlas of Infrared Plates is available now from Schilt Publishing.