Go forth and invest in the sunglasses industry. This is the future of Europe. And the future is bright. The Europe that Hugh Frost and Leon Sadler are theorising over is, anyway — but it's not a metaphor … the duo's latest edition of Mould Map dwells on Europe 'and its future possibilities', and it's fucking bright.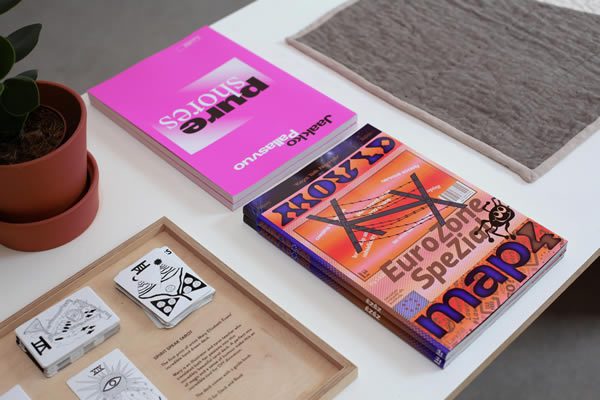 The former of the two also gets his hands dirty in the graphic design of Mould Map 4, Eurozone Spezial, which is the latest volume in a series of publications — released by Nottingham's brilliant Landfill Editions — that push the boundaries of contemporary art direction and artist-led editorial. Featuring a ton of comics, graphics and art from a whole host of talent, Mould Map 4 also muses deeply on European counterculture; speculative and historical. The radical left of 1970s Italy is explored, as too are a little-known inflatable art collective Action Space and activist ephemera from a rare books collector. This is not your typical look into the workings of the EU.
128 Pages in A4, Mould Map 4, Eurozone Spezial is a weighty, extravagantly-printed affair; a free copy of Jonathan Chandler's John's Worth and an A2 Site Office poster by Ben Mendelewicz offset high postage costs. Limited to 2,500 copies — drift into the woozy, freethinking world of eccentric European potential now.