The Liberate Tate collective donated a little 'Gift' to the Tate Modern this gone Saturday 7th July. The part protest, part art gift was another attempt by the protestors/artists to liberate the Tate group from its apparently unavoidable attachment to oil giant BP. Chris Sands, a participant in the performance said: "Tate is forcing climate-conscious gallery goers into an uncomfortable position of complicity with BP, one of the most environment-destroying corporations on the planet. We've come together today to make a work of art that we hope will resonate with artists, art lovers and the wider public; people who care about the harm being done to by this oil company to affected communities, the world we live in and generations to come."
Having acquired the 16.5 meter wind turbine blade from a valley in Wales, the giant structure was transported to London and made into 'art' by a mini Liberate Tate army. Carried across London by hand and placed in Tate Modern's Turbine Hall – there's an excellent Vice film that captured the event – the 1.5 tonne protest placard has now been removed from the Turnbine Hall, and Peter McDonnell of Liberate Tate has no idea where it has been taken. According to the 1992 Museum Act the institution must consider it as a valid donation as it is a gift to the public.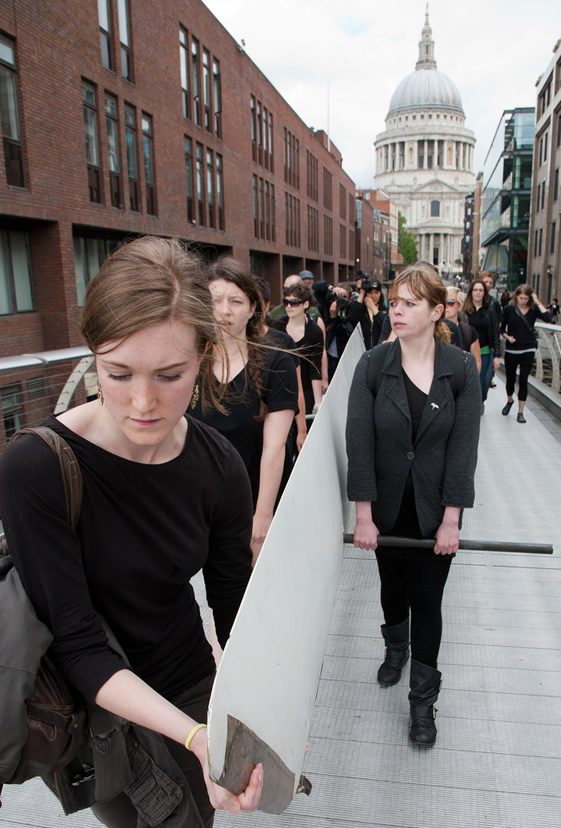 So I asked him, what is the alternative to art institution's dependency on BP's funding? Given that it costs millions to operate, allowing visitors from all over the world to enjoy most of their collections free of charge and not to mention the staff, maintenance and educational programs – who should be footing the bill?
"It's difficult to be able to suggest an alternative when Tate is refusing to disclose what the actual amount of money is that BP is paying for all this greenwash. If Tate would be willing to practice the degree of transparency that you would expect of a public institution, then we could start practically discussing what the alternatives are.
Cuts to the arts, like cuts to other vital public services, are an ideologically motivated attack by a government that seeks to drive more and more spheres of human endeavour in to the private sector. The fact that so many arts institutions are so financially vulnerable right now, means that the debate about the ethics of particular corporate sponsors is more urgent than ever".
It's a shame that the wind turbine wing has been removed. I think London needs an alternative voice with the run up to the Olympics, without glossing over major cut-back and austerity measures. I love the Tate and would really like to see an alternative and responsible solution to their funding needs.