We have access to more information than ever, but at the same time the battle for control over that information intensifies. Many countries are now controlling information infrastructure leading to much of what we are accustomed to being censored or cut off altogether. German broadcaster Deutsche Welle (DW) has always sought to provide solutions to circumvent censorship and provide information to the people. And their latest global campaign is taking things to a new level.
In an era of political divide and expression through art, the power of fashion to make a statement for social change can have a profound effect on what we believe in. This fight for freedom of speech is relatable to all generations and is fuelled by the powerful words that accompany it. Younger generations are particularly passionate about having their voices heard, and they understand more than ever how important it is to stand up for their beliefs; and now they can do it efficiently through clothing.
From protest marches adorned in custom messages to celebrity-driven campaigns encouraging us to 'speak our minds,' a new collaboration between DW and Berlin-based designer Marco Scaiano is fighting for freedom of speech and justice through fashion.
Uncensored Collection for Free Minds
The Uncensored Collection is developed by fashion designer Marco Scaiano and national broadcaster DW. It's not only a message you can wear, even though the statement helps with the fight. Each piece from the Uncensored Collection contains hidden instructions that will allow wearers to access tools that will help them circumvent censorship and gain access to independent media; wherever they are.
But that's not all. To prove they are willing to put their money where their mouth is, so to speak (freely), net proceeds will go to the CPJ (Committee to Protect Journalists); an independent, non-profit organisation that's fighting for freedom of the press worldwide.
The Importance of Uncensored News and Freedom of Speech
Just imagine not being able to think for yourself and that you have to rely on the government to tell you what to think. To have thoughts that are banned and to be punished just by speaking the truth. If you are lucky enough not to live in censorship, you understand how important it is to fight for freedom of speech. To fight for justice and journalists who just want to speak the truth and let the public know the unbiased version.
If you are in a censored country, there is a way to still break through the censorship and safely access independent media platforms. One thing is certain, wherever you are, the fight is the same. And you can continue fighting for what's truly important.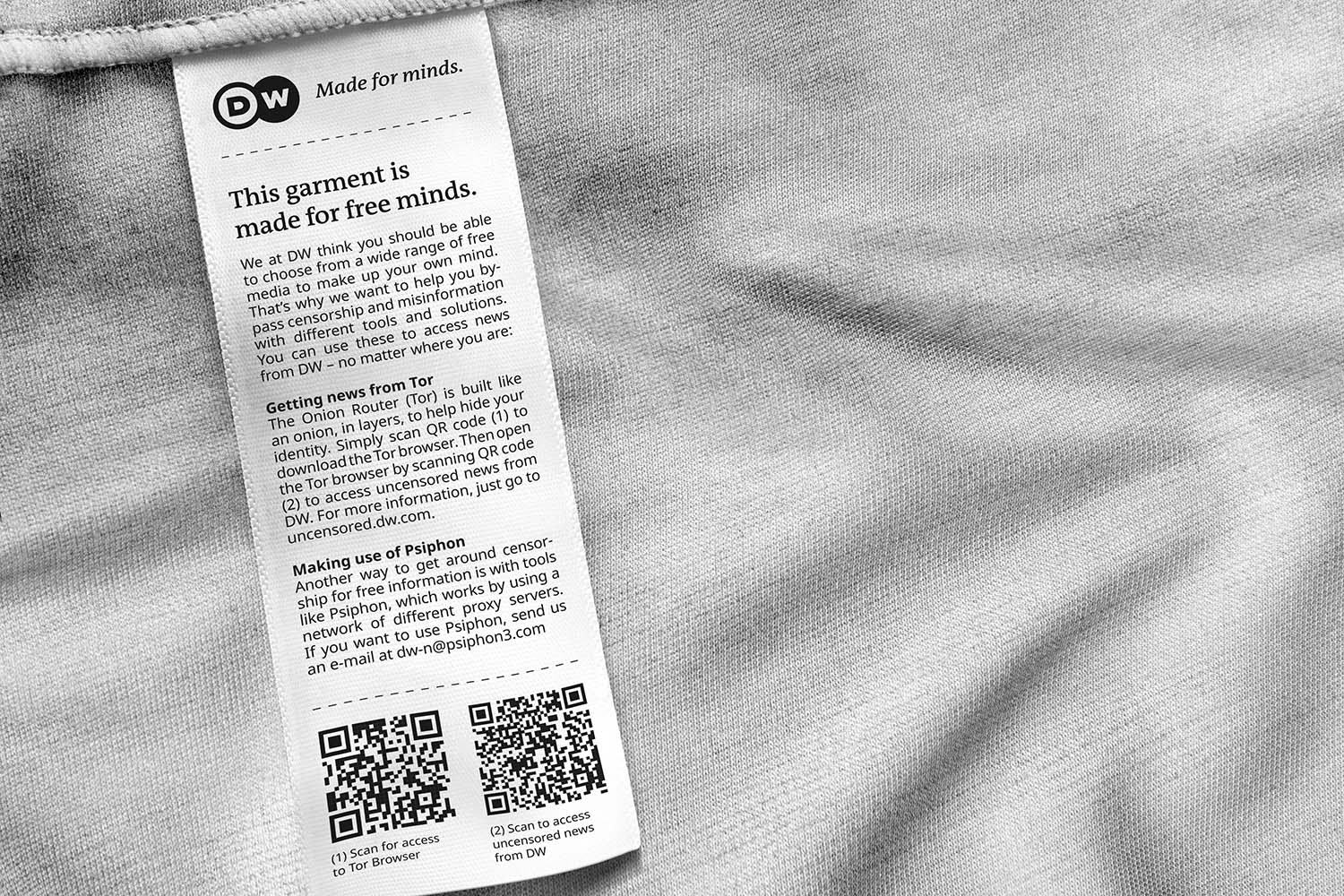 How to Access the Free Media on Scaiano's Garments
Hidden labels are sewn into each piece of clothing from the Uncensored Collection. There, people can scan the QR code, which would help them get a secure browser called TOR. This will allow them to access DW's content anonymously and securely.
DW also uses a censorship circumvention system called Psiphon, which acts as an intermediary between online sources and users so that the censorship can't trace the act back to the users.
Freedom of Speech is Not Just Being Able to Say What You Want
Freedom of speech is an important human right that allows individuals to express themselves without fear of reprisal or punishment by the government or any other authority. It includes the right to speak one's mind without fear, as well as access to information and ideas from others, which is exactly why DW, together with the Uncensored Collection, wants to allow that access to everyone – even people in censored countries.
This right is fundamental to democracy and respect for human rights, allowing citizens to hold their government accountable and participate fully in public life without fear of retribution.
Countries With Censorship
In some countries around the world, freedom of speech is not protected by law or enforced by governments. Instead, various forms of censorship are used to stifle dissent and control what citizens can say and think about their leaders or political issues. Examples are numerous, sadly, like Vietnam's harsh measures against journalists who criticise its government and Russian anti-extremism laws. Here are some more examples of countries with censorship below.
China's Internet Censorship Program
China is known for its strict Internet censorship program, which is used to control what its citizens can access online. The Chinese government blocks websites it deems politically sensitive or offensive, including sites related to human rights and political criticism. In addition, China censors social media platforms like Facebook and Twitter, as well as Google's search engine and other popular apps like WhatsApp. This means that Chinese citizens don't have access to information that could potentially be used to challenge the government's policies or beliefs.
Saudi Arabia's Control Over Media Outlets
The Saudi Arabian government exercises strict control over media outlets within its borders, including newspapers, television channels, radio programs, and websites. It has shut down websites that criticise its policies or offer alternative points of view on topics such as religion or politics. In addition, Saudi Arabia has blocked social media platforms such as YouTube and Twitter in order to prevent people from sharing dissenting opinions or discussing controversial topics online.
Iranian Women fighting Against Mandatory Hijab Laws
The fight for freedom of speech and expression in Iran continues for Iranian women, who are fighting against the oppression of freedom that women have experienced in the past. The current wave of protests has been sparked by a number of activists, including the victims of transwoman Sahar Ghoreyshi, who was killed while online streaming a protest on June 20th, 2020, as well as Neda Amin and Maryam Shariatmadari – two journalists who were charged with "insulting public officers" after peacefully protesting against mandatory hijab laws.
They are now facing punishments ranging from over five years in prison. The fight is both crucial and meaningful to women all across Iran – it symbolises freedom from restraint and their right to express themselves without fear of punishment. Women are determined to challenge oppressive rules and restrictions in order to gain freedom of speech, which would allow them the same liberties given to men, ensuring greater gender equality across Iran moving forward.
All these countries have one thing in common: they do not allow their citizens unfettered freedom when it comes to expressing themselves online or in public forums, which is exactly why DW branched out into fashion in order to make a stand and fight for freedom of speech.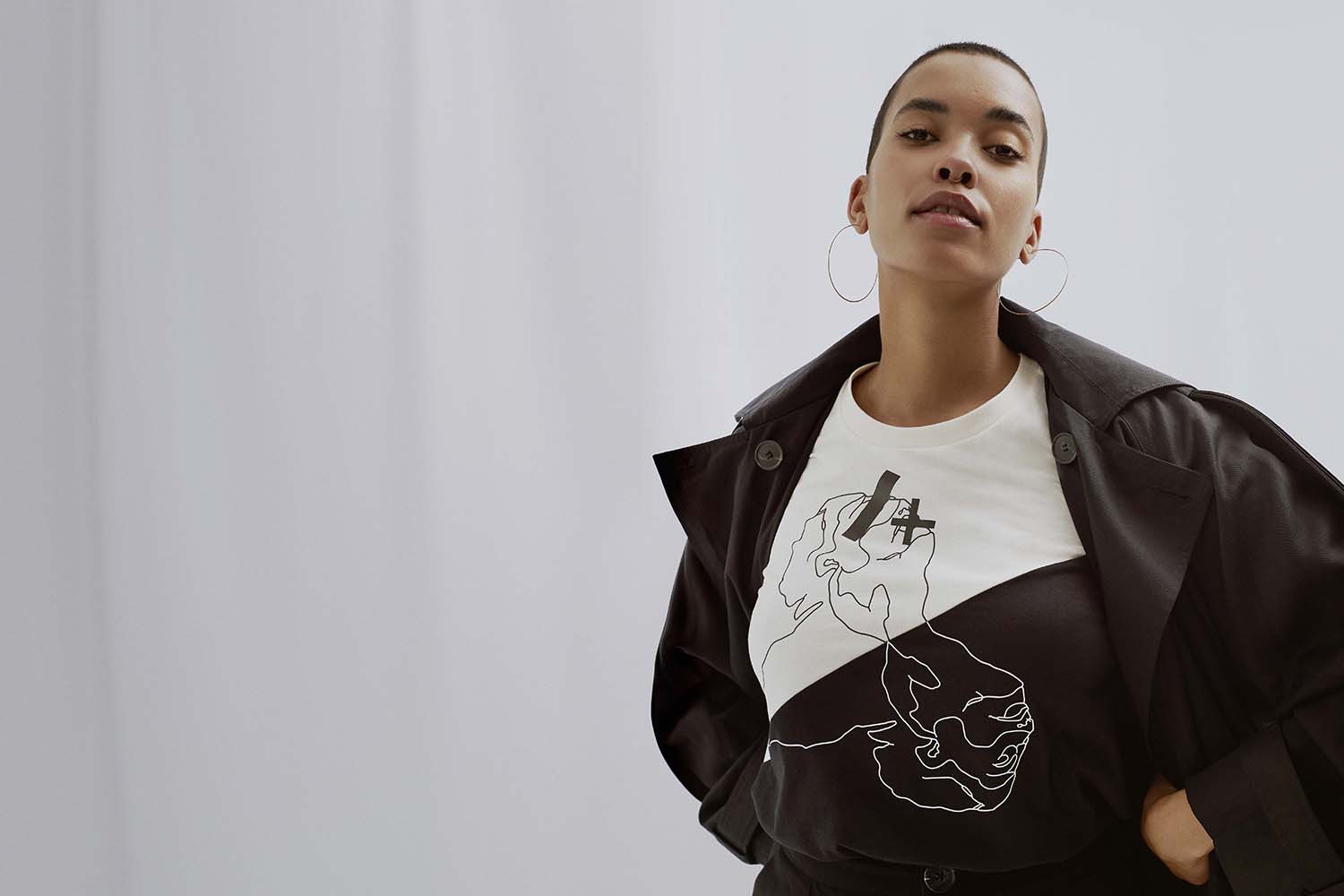 The Impact of Censorship on Freedom of Speech
When citizens are denied their right to speak freely, they can no longer effectively participate in public discourse or hold governments accountable for their actions. This means that those who are already marginalised, such as women, minorities, and LGBTQ+ persons, are even more vulnerable because they have no way of speaking out against the discrimination or oppression they may face within society. Furthermore, censorship limits our ability to access accurate information and make informed decisions about our lives, leading to a less informed public overall which can be easily manipulated by those in power.
Take a Stand for Freedom of Speech with DW and Marco Scaiano
To quote DW's Managing Director of Distribution, Marketing, and Technology and responsible for DW's global marketing activities, Guido Baumhauer: "Freedom is stitched into everything we do." So why not continue the fight through fashion apparel as a form of political action to amplify the movement toward true freedom of speech?
Order a statement piece on Marciano Scaiano's website or read DW's full campaign release here to learn more about the project.