Lucas Price's work High on Acid 1989 — a basketball bearing the enigmatic phrase "wonder fortress" — hints at a colourful youth, but it doesn't tell even half the story. Price is a street artist in the very realest sense, surviving heroin addiction and rehab, selling his A-level work for thousands of pounds before he'd even been accepted to the Royal College of Art and becoming a darling of the contemporary British scene.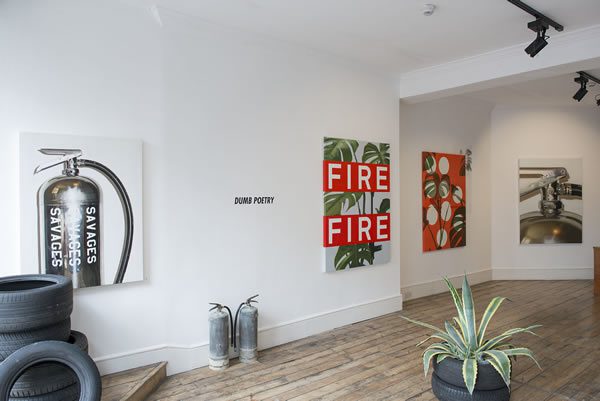 A multidisciplinary artist, Price has many irons in the fire, including the A.Four Labs clothing line in collaboration with Tokyo designer Kazuki Kuraishi, but it's the artist's paintings, drawings and sculptures that are taking centre stage at Lazarides, London.
Dumb Poetry has occupied the London gallery like a welcome squatter, with stacks of tyres and fire extinguishers creating an immersive atmosphere to the exhibition; several works have been printed directly on the walls, adding to the feeling of occupation. The use of text on imagery, as seen in that tripped-out basketball, recurs frequently in Price's visual language, intruding on photorealistic paintings and graphical illustrations to tremendous effect. Price packs up and moves out on 10 September.