Around the time that Brazil was removing impeached President Dilma Rousseff from office in 2016, New York City-based photographer Sophie Barbasch travelled to the country to document its military police school in Fortaleza.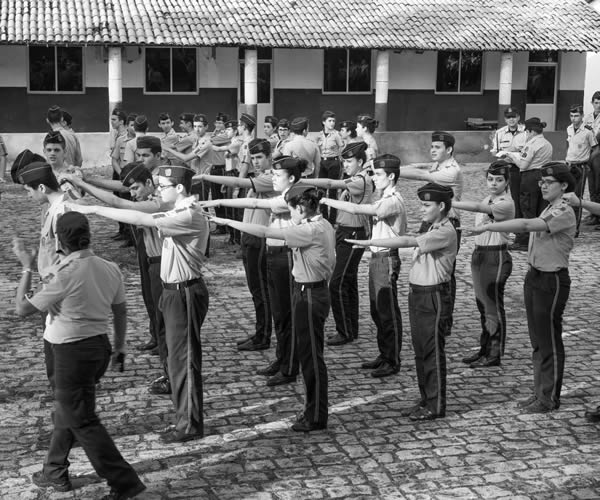 Believed by many to be a shady coup, Rousseff's dramatic denunciation—making her the first democratically-elected female President in the world to be impeached and removed—sparked memories of military dictatorship, with plenty of conversations had about a return to military rule. Intrigued by how the students of the school—a regime of sorts that prioritises discipline and obeying commands—interact to their surroundings, Barbasch was given access to the pupils and their practices.
Students of a police force that is a separate institution from the actual military, but nonetheless was closely allied with the dictatorship, in many ways personifying those harshly conservative values, Barbasch captured a compelling insight into a little-known world; the photographer able to seize a deeply personal angle to a critical moment in Brazil's tumultuous history.
The result is a body of work entitled Military Logic, a series of black and white prints in which Sophie Barbasch sees a human element in the political unrest. "Sometimes what struck me the most was not the history or context, so much as the way they looked at each other," she tells us. "In an environment that is all about surveillance and optics, I observed them observing each other. I thought about how the simple act of looking can be disruptive."