Just next to one of London's favourite landmarks, St. Paul's Cathedral, sits recently opened bar and restaurant The Happenstance. It really is happenstance if you do stumble across it due to its rather unassuming exterior – nothing extraordinary until you step into the rammed monochrome bar with white brickwork, tubular stools, herb garnished tables and plenty of light. You can clearly recognise the style of Drake and Morgan at work, this place is their sixth eating and drinking venue to open.
The Happenstance is so full of smartly suited young professionals you could actually be in Shoreditch, and it has that East/City vibe about it. Through the bar and into the large open-plan dining room there is a buzz of chatter and clinking of glasses. We chose the more private area near the kitchen to sit and watched the non-uniformed waiters and waitresses darting around.
Key colours are black, white, yellow and pale aqua. The food menu is a single sheet with specials pegged to the side. Nice ceramic salt and pepper dishes accompany the candelabras, with lots of typographic touches around. The cocktail menu is one of the nicest I've seen and the graphic, humorous and stealable publication (please don't steal the menus, or if you do and get caught, don't mention our name – Ed) has an array to choose from.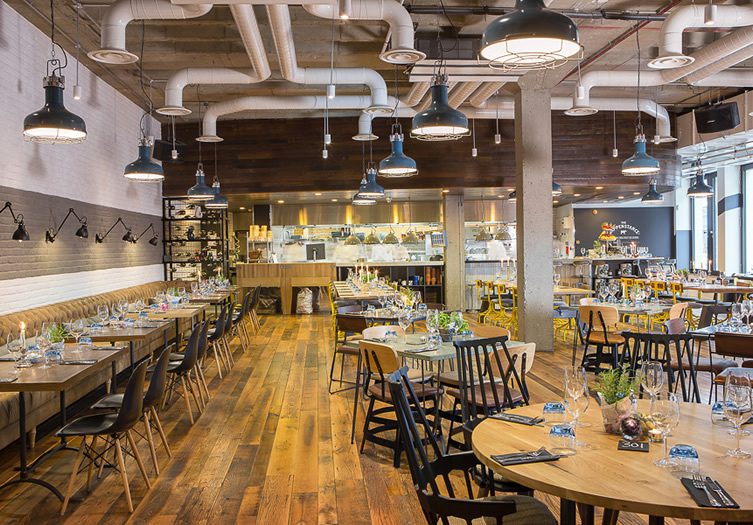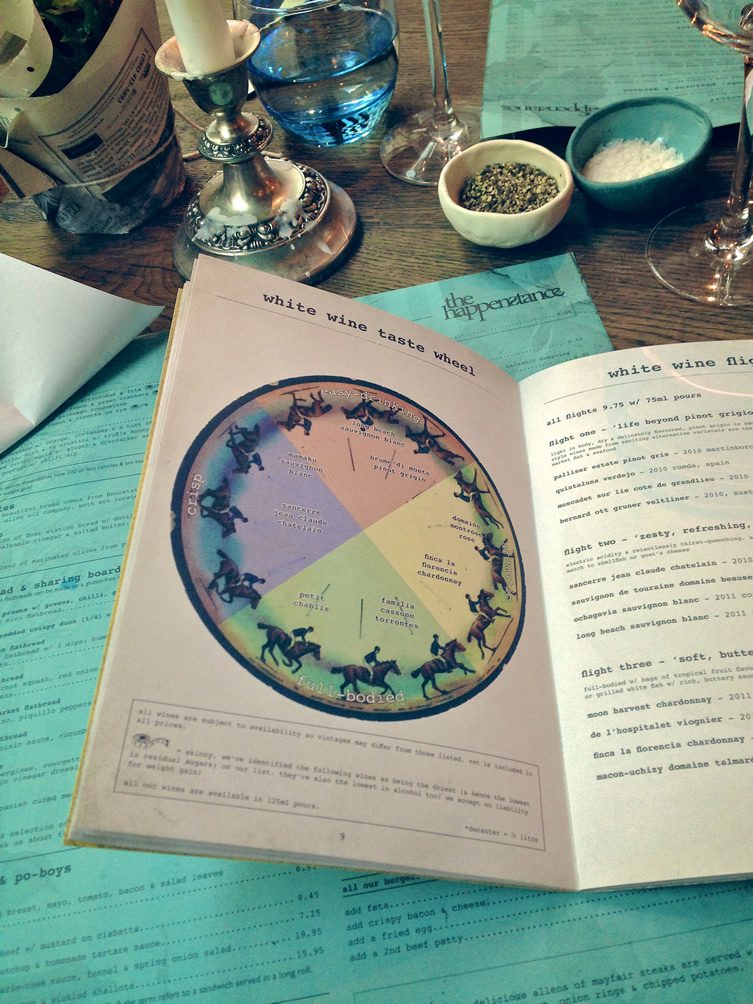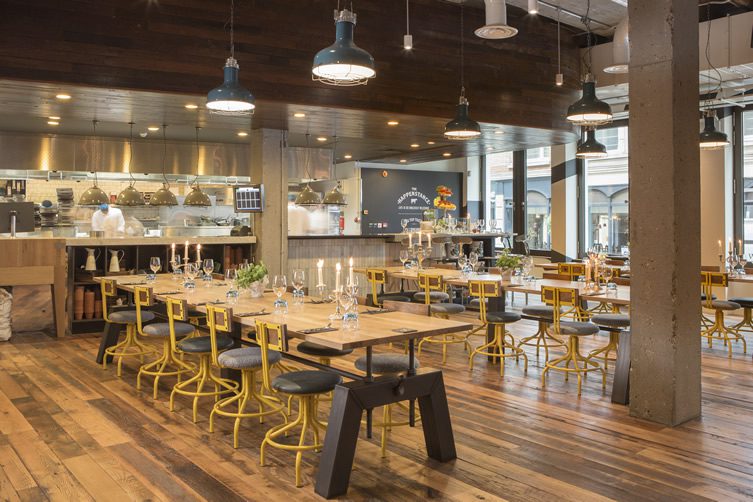 We picked a deadly one called Zombie-Land, a delicious concoction of Bootlegger, Pampero Blanco, Golden Falernum, Wray & Nephew overproof rum, passion fruit and pineapple finished off with a cup of flaming absinthe. Yikes! My "Goldfish in a Bowl" came in a sandwich bag that stood up filled with ice, and the novel grapefruit skin fishie inside made me smile. What can I say? I do love tacky. There are skinny cocktails too, which is a bonus if you like that sort of thing.
Loving the playfulness of the place we scanned the reasonably-priced offerings. The dishes are easy-going, all burgers are available skinny and carb-free or fully loaded with all kinds of cheeses. The flat breads are essentially super thin pizzas with little or no cheese, and the starters sounded enticing. The somewhat under-seasoned tempura squid was presented lovingly in a bamboo steamer. It came with a rather punchy chilly dip and the crispy duck "burnt bits" were a nice surprise. The salmon ceviche wasn't really ceviche but for £6.99 you don't really care; the ingredients, importantly, are fresh. The salmon, soft and subtly flavoured, was presented on slate. I'm not a fan of scratchy serving dishes, but here I'll forgive it. Up next was the "full-fat" rib-eye steak that came with lots of extras. The meat was tasty and tender and not at all sinewy. We actually ordered medium rare but got closer to rare, but this was fine as the quality of the cut was great.
By the end of the meal we were satisfied, and the atmosphere got happier and louder. The Happenstance is a great place for London's City folk looking for a bit more style for their post-work rest and play.