It's a daring restaurant that invites a Turner Prize winning artist to completely overhaul their dining room. But then this is not your average restaurant. Founded with the vision of truly bringing together a destination for food, art and music – Conduit Street's über-cool Sketch has long been famed for its provocative approach to the dining experience.
Which brings us to the aforementioned Turner Prize winning artist: famed for winning the 2001 award with Work No. 227: the lights going on and off – one of those 'controversial' works that have the Daily Mail crew blathering on about their children being able to do something better – Martin Creed has transformed their Gallery restaurant with an overwhelming series of works.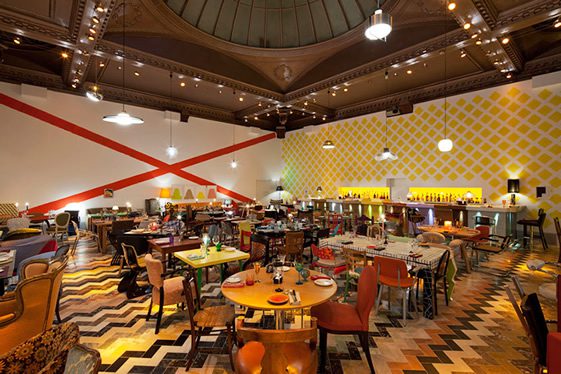 What, at first glance (and perhaps second, and third), looks like a jamboree of car-boot-crap attacked by Dulux wielding rioters – is in fact two major works by the artist. And, upon closer inspection, there's a charm and wit to the works that you really begin to warm to. Work No. 1347 consists of 96 different marbles, zigzagging their way around the Gallery floor, a series of large-scale murals on the walls completing the piece.
Whilst the most spectacular is surely the mismatched madness of Work No. 1343, where every table and chair – even each individual piece of cutlery and glassware – within the dining room is unique. Co-founder, and three Michelin-starred chef, Pierre Gagnaire has even knocked up a Creed inspired menu to accompany the installations. As we said, it'd take a brave restaurant to take on this kind of project. Thankfully somebody's willing to show such an unwavering commitment to art.
The first in a series of artist-conceived interiors, Creed's handiwork will be on display for just 18 months.